Italian airline considers flights between Mahe and Rome
29-November-2011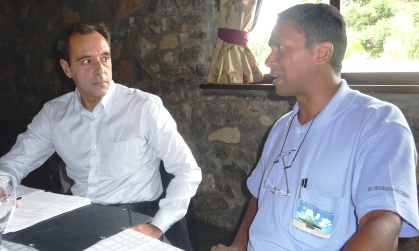 Mr Faure – who is also the chairman of the Seychelles Tourism Board (STB) – met Mr Della Porta at Le Méridien Fisherman's Cove Hotel in the presence of Captain David Savy, who is the chairman of the Seychelles Civil Aviation Authority (SCAA), STB's chief executive Alain St Ange, chief executive Gilbert Faure of the Seychelles Civil Aviation Authority and STB's deputy head Elsia Grandcourt.
In another meeting Mr Remo Della Porta also met Air Seychelles' chief executive Bram Steller, Captain Savy, and Mrs Grandcourt.
He said he wanted to reaffirm the intentions of his airline to launch nonstop direct flights that would do a Milan, Rome, Seychelles run. He said the airline has already applied to the Civil Aviations Authority of Italy for designation formalities and they are seriously considering launching flights to Seychelles to fill the void created by Air Seychelles when it stopped flying to Italy in January.
Italy remains the second most important tourist market for Seychelles and many Italian travellers have only this week made it known to their tour operators that they want nonstop direct flights only.
Mr Della Porta confirmed the Blue Panorama Airlines is after a long term association with Seychelles and they want to see if it is possible to conclude all negotiations soon so a formal announcement can be made, to remove uncertainty in the market place.
The Blue Panorama Airlines is an Italian private airline which operates on long-haul scheduled flights. Blue Panorama Airlines is an active International Air Transport Association member which is IATA Operational Safety Audit registered. It was established in 1993 and based in Rome in Italy.