'Decent work accord to bolster economy'
29-November-2011
The Minister for Education, Employment and Human Resources Macsuzy Mondon said this after she signed a memorandum of understanding to implement the 2011-2015 Decent Work Country Programme initiated by the International Labour Organisation (ILO).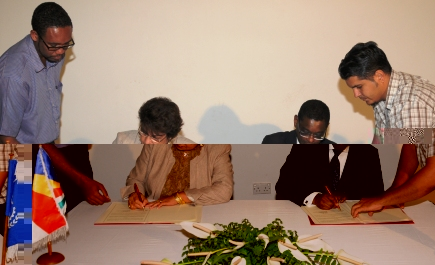 The ILO regional director for Africa Charles Dan signed on behalf of the organisation in a ceremony which took place at the former National Institute of Education auditorium.
Among those who witnessed the signing were Designated Minister Vincent Meriton, who is also the Minister for Community Development, Youth and Sports and the Minister for Social Development and Culture Bernard Shamlaye as well as senior representatives of labour and employers' organisations.
Minister Mondon said the programme has come at a timely moment when our country is going through a macro-economic reform programme.
She recalled that the stringent fiscal and economic policies adopted, resulted in some job losses.
"However, we believe that investing in decent work, is not only a commitment to fairness and justice, but also a move towards better economic performance, more effective public policy and governance."
She noted this year the employment department launched its strategic plan for 2011-2015 – a commitment for full employment, where all Seychellois can find decent job opportunities.
It will also undertake a comprehensive amendment and codification of the labour laws to ease business, while ensuring workers' rights.
She added productivity awareness programmes will also be designed to boost productivity, discipline and hard work in the work place, where harmonious industrial relations will be promoted.
She noted Seychelles joined the ILO in 1977, a milestone marking the long standing relationship between our archipelago and the international body.
Decent work is seen as the "tool to reverse the trends of pervasive and persistent poverty, unemployment and under-employment," especially in developing countries. She was pleased to note that Seychelles features as one of the countries where the programme has been endorsed at the highest political level.
"I would therefore like to thank President James Michel for his support and interest in the promotion of decent work for every Seychellois."
Mrs Mondon however said the objectives of the decent work agenda are as relevant here in Seychelles as in many other countries, although we have made significant progress to eliminate the scourge of poverty. But, we should not be complacent.
The minister noted that for instance, we have witnessed significant progress in the employment and labour sector over the past five years. She said these include the introduction of a national minimum wage, guaranteeing decent and fair salaries for men and women and for work of equal value. There has also been an increase in maternity leave from 12 to 14 weeks to meet international labour standards as well as several social schemes to help workers who are either sick for long periods or become incapacitated following accidents at work.
She said we have now seen steady growth in employment, leading to a decrease in the unemployment rate, which in September 2011 stood at below 2%.
Mr Dan, said to date 31 African countries have expressed commitment to the ILO programme. He said that before Seychelles, Benin was the most recent, while Cape Verde is expected to endorse it in mid-December.
Committing itself to the programme, Seychelles is agreeing "this is the way forward", he said.
"We are here to witness a long journey and one in which the ILO will be there to accompany you at a critical level," he added.
He said employment is the key to jump start economies and present events in North Africa and the Middle East are strong indications why employment should be at the centre of a national agenda.
Mr Dan said he is aware how Seychelles' economy is vulnerable to external shocks, which can affect tourism, fisheries, trade and financial services on which the country depends.
The guests also heard presentations on the labour situation in Seychelles by the principal secretary of employment Marina Confait, Maxwell Julie who is the president of the Seychelles Federation of Workers Union and executive secretary Sultan Beaudoin of the Federation of Employers' Association of Seychelles.