Seychelles basketball Federation (SBF) Cup finals-Stars complete double, Dawgz claim Cobras' scalp
29-November-2011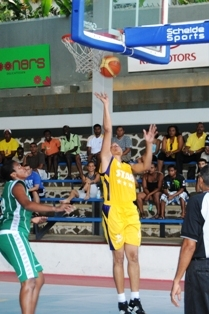 Without taking anything away from Anse Etoile Stars' double achievement thanks to a 53-47 win over HotShots in the women's final played earlier, Mont Fleuri Dawgz deserved all the congratulations as they brought their fast and free-flowing game to Victoria Gymnasium to claim the scalp of Premium Cobras on an 81-67 score for a place in Seychelles basketball history.
A big and vocal crowd watched the two matches which were beamed live on Seychelles Broadcasting Corporation TV and as the final seconds ticked away chants of 'who let the dogs out' filled the air.
Even National Sports Council chief executive Alain Volcère was impressed with Dawgz' level of intensity and play, reminding him of his playing days and his time as coach of the women's national team.
Forêt Noire-based Mont Fleuri Dawgz should be commended for their victory and the way they held their nerve to bank important free-throws in crunch time for a very famous win.
Dawgz' coach Nigel Ah-kong, who also guided his team past league champions PLS Hawks in the semifinals, said he has spent a great deal of time plotting his former team's downfall.
"I just don't know and can't explain how I feel today. It's a great win for a bunch of youngsters and I have to congratulate them for this big victory," said coach Ah-kong.
"I hope we come back next year with a bigger squad and more determined to achieve greater things," added former Premium Cobras and Seychelles playmaker Ah-kong.
Dawgz make Cobras lose their 'hood'
After the two teams had traded points and Premium Cobras winning the first and third quarters 13-11 and 28-24, and the Dawgz dominating the second 18-12, the score was tied at 53-53 at the start of the final 10-minute spell.
With 55.4 seconds left on the clock, Premium Cobras found themselves in trouble as Francis Herminie was hit with two consecutive technical fouls and was disqualified for throwing a punch at referee Daryl Nourrice. At this time, Nigerian Ugbaje Ajodoh, Amadou Sylla and Christopher Camille had already fouled out.
Nigel Cafrine and Steven André made no mistakes, banking the six free throws to bring the score to 75-65 in Dawgz' favour.
Premium Cobras, who had entered into the match with their confidence sky-high, just could not control themselves and their former player Tony 'Siro' Moustache made a trip to the foul line, getting three of four from the stripes before coach Ah-kong's son Sergio Ah-kong banked his third trey of the match to bring the score to 81-65.
Timmy Adam, who got off the substitutes' bench to lead Premium Cobras in scoring with 22 points, including some spectacular slams, netted his team's last two points for a final score of 81-67.
It was a fantastic win for the Dawgz who had made the Cobras lose their 'hood'.
After firing blanks in the first 20 minutes, André got all his team-leading 22 points, including 11 free-throws, in the second half. He was helped in offence by Moustache with 12 points, Kevin Romain with 11 and both Sergio Ah-kong and Cafrine with 10 apiece.
Stars shine bright

HotShots had taken over domination of the courts from Anse Etoile Stars in 2009, but this year they could not defend the league and cup titles after back-to-back triumphs in 2009 and 2010.
HotShots had a chance to stop the Stars from achieving a league and cup double this year after relinquishing the league crown, but they just could not deliver in crunch time as coach Michel Malbrook's team took the win on a 53-47 score to achieve yet another double.
The Stars built their victory in the second quarter which they won 16-4 after having lost the first 10-11. They again edged HotShots 12-11 in the third and although the Anse Boileau-based team outscored them 21-15 in the final quarter, they still celebrated a double victory.
"We've reclaimed the two titles we lost two years ago," said coach Malbrook whose wife Simone Malbrook led all scores with 15 points.
Centre Tina Agathine finished with 14 points for HotShots, while Beguitta Fontaine connected on four treys for her 12 points.
G. G.