Up Close with Tessa Henderson….the host of SBC's Paradise FM's Tessa's Thursday Trouble-'I followed my instinct and it led me to media job'
29-November-2011
She greeted me with a smile full of life despite having been at the station since 4am.
A Virgo by zodiac sign, the talkative Tessa Henderson was born on September 5 1981. She is the eldest of three children of which two are boys.
A religious person, Tessa is very active in different church groups she forms part. Those are Jeunes Unis à la Cathédrale Activement Religieuses (Jucar) and the Catholic Youth Pastoral where she helps organise activities for Catholic youths at national level. She also brings life to masses held in different parishes across the country.
Tessa enjoys spending time with her little dog Missy, whom she treats as if it was her own flesh and blood. She enjoys listening to classical music, socialising, taking photos and of course talking a lot.
Inspired by famous American actress, singer, model and showgirl Marylin Monroe, Tessa also likes helping others which she says is her 'vocation'.
Early life – childhood and education
She grew up with her two younger brothers in the heart of Victoria where they enjoyed frequent play time which she says eventually led to her adopting a tomboy-like personality. However, she quickly admitted this is not always the case and that she still enjoys her more girly side.
"My childhood was not easy, but I enjoyed every single moment of it, like climbing trees, getting bruises and cuts. In fact, 21 stitches are what you get for being a tomboy. This pretty much made up my unforgettable childhood," she chuckled as she showed me the scar on the back of her right leg.
"I still enjoy wearing fluffy dresses and ribbons in my hair though," she said.
At the age of three, Tessa began learning English from one of her neighbours – Miss Rouillon. She did her primary studies at the former Belonie primary school before moving to the Belonie secondary school to continue her studies until secondary four. After that, Tessa joined the National Youth Services in 1998 before it closed down at the end of that same year.
Tessa was also extremely involved in school activities like public speaking, singing, dancing and was also house captain at one time, but added that she never once neglected her studies.
Tessa's famous instincts led her to the SBC at the tender age of 12.
"My biggest achievement as a secondary student was at the age of 12 when I became the host of Varyete Zanfan Seselwa – a children's programme on the SBC AM radio every Saturday morning. I enjoyed listening to the show, telling myself I would one day host it and finally the big day arrived when one day Saturday morning I heard that the kids who were presenting the show at the time were leaving. So I phoned the producer and told him I was interested in hosting the show. He agreed. I was ecstatic," she said happily.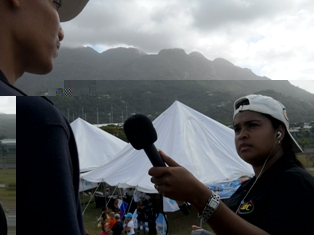 While still at the Belonie secondary school, Tessa had to leave for England for one year in 1995 to be with her mother who was pursuing further studies there. She returned to Seychelles in 1996 and went back to hosting the Varyete Zanfan Seselwa children's programme on the radio.
She attended the Seychelles Polytechnic where she did her O-levels and A-Levels, but was still unsure of what she wanted to do at the end of her schooling years.
"I had a strong passion for the development of the Creole language because at that time I always found myself taking part in Creole forums and everything associated with the development of the language," she said.
It never once crossed her mind that she would one day work in the media.
"After all, I had always been interested in linguistics and anthropology and my mind was already been set on either of the two."
Work experience
Tessa had started working at the SBC where she remained for two years hosting different shows before joining the Chester University in England where she spent four years studying radio production.
While there, she got a part-time job at the telecommunications company Vodafone where she worked in the sales section and repaired mobile phones for three years.
Her talkative attitude and catchy personality eventually helped the company gather more clients.
"If I ever leave the media I might go to work in a telecom company," she said.
Tessa eventually began studying anthropology again and got the idea for the Mon Sinyatir AM radio show.
"It's great that everything I enjoy is related to each other," added Tessa, who has never really faced many challenges, except for a minor confidence crisis during her studies for her degree.
Life as the hostess of Tessa's Thursday Trouble (3T)
"I got the chance last year to become a qualified peer educator and trainer, which I think inspired me to begin my 3T show," she said.
Tessa's Thursday Trouble (3T) is a programme where young people call the host – Tessa – and co-host Andy Mahoune to talk about the problems they are currently facing.
"3T is not about giving advice but rather giving support to the young people and making them aware that they need to talk to someone who can really help them," she said.
"Having Andy as the co-host on 3T, gives the show the right balance. He voices out the boys' views and I the girls'. Sometimes we come in the studio at 6.30pm for the 7pm show and we find that kids have already sent us text messages."
Tessa added that, however she and Andy are not counselors but are there to encourage young people to talk about their issues and even help them to see things from a different perspective.
"I'm happy though because feedback of the show is quite positive," she said. "It acts as a motivation to keep the show running."
At the end of the interview, Tessa had this to say: "I believe everybody should follow their instincts – no matter what people might think or say. It's a sure-fire way to lead you to eventually become who you want to be."

By Beverley Freminot