Seven die in three tragic incidents
29-November-2011
Two of the seven dead drowned at Beau Vallon Beach on Sunday.They are brothers Shannil Salim Adam Moosa (22 years) and Shamir Salim Adam Moosa (19 years) from St Louis.
The other five died in two fire incidents.
Described as one of the most horrible fires of the year, the house fire at Au Cap claimed the lives of four members of the Charlette family. Those who died in the fire are Natasha Didon (24 years) and her son Devron Charlette (five years), Saline Seth (24 years) and her daughter Jasmin Charlette (three years).
All four were trapped in the house where they had been soundly sleeping until around 4am on Monday when all hell broke loose.
House owner, 66-year-old Samuel Charlette – the grandfather of the two children – and his son Dereck were also in the house at the time of the fire.
According to the police, Dereck managed to save his wheel chair-bound father, but could do nothing to rescue the other four people who were still inside.
Dereck's girlfriend Saline and daughter Jasmin were among the four who perished in the fire. They had managed to reach the kitchen, but could not get to the exit as the heat and smoke were too intense.
Mr Charlette has been admitted to the intensive care unit of the Seychelles Hospital and is said to be in a critical condition, while Dereck has suffered serious burns on his body. Both are said to be in stable condition.
Chief Fire Officer Andre Morel said the fire and rescue agency was alerted about the fire by a security officer on duty on another property close by.
"When we received the alert, we were told that the fire was very big and when we arrived at Au Cap, it had already engulfed the house. The roof had already collapsed," said CFO Morel.
Mr Morel said they deployed three fire tenders – two from the main station in Victoria and one from the Seychelles International Airport – with 14 men to the scene.
In a separate incident, the police have reported that a young man, 36-year-old Brian Lucas, died in a huge fire which has completely destroyed the Mont Royal rehabilitation centre in the early hours of Monday.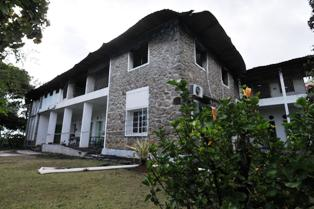 Lucas had been admitted to the institution where he was receiving treatment. His burnt body was discovered in the centre's toilet.
The fire and rescue agency said it was alerted of the fire at Mont Royal eight minutes after receiving the call of a another fire incident which had occurred at Au Cap.
There were 11 patients receiving treatment at the institution at the time of the incident. The others managed to escape unhurt.
The police have said that based on results of preliminary investigation, they are treating the fire as a possible case of arson.