Cascade holds annual gospel show
29-November-2011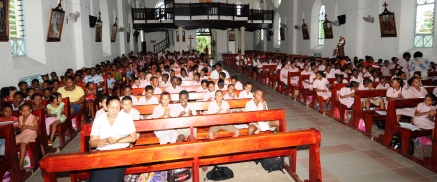 Cascade school children enjoying the gospel show
The event took place on Friday and was attended by the event coordinator and kindergarten teacher Judy Josias, headteacher for Cascade school, Inese Oreddy, other members of staff and students.
Mrs Josias said those who took part in the show were meant to include children from zone three schools but for some reasons "outside their control" this was not possible.
"The reason we decided to put on the gospel show is that it's an annual thing and this year we thought it would be a good initiative to include other schools as well but unfortunately this was not possible," she said, adding the whole community including parents, district administrator and Member of National Assembly Charles DeCommarmond were also invited.