Piracy threatens fishing industry
01-December-2011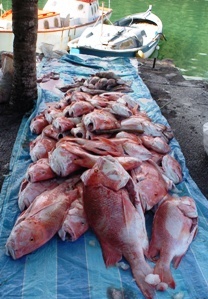 Since 2008, the tonnage of fish caught by artisanal fishermen has reduced from 4,500 tonnes per annum to 2,500 tonnes last year.
This trend also shows itself in the figures for semi-industrial fishing where the total catch has reduced from 330 tonnes in 2009 to 295 tonnes last year.
These were revealed by Vice-President Danny Faure, who is also the Minister for Finance and Trade, while presenting his Budget address before the National Assembly on Tuesday.

Mr Faure said as a result of this threat, a number of fishermen are reluctant to go fishing.
Meanwhile, he said, the Seychelles Fishing Authority (SFA) is developing a mariculture project which should be completed by the end of 2012.
All local businessmen are being invited to consider these possible alternative techniques during this difficult time, he said.
Still on a gloomy note, Mr Faure also remarked that the number of vessels licensed to fish in our waters has also reduced.
"In the first six months of 2011, industrial fishing vessels in the Western Indian Ocean caught 15% less fish than in the same period of last year.
"There has also been a 16% reduction in the tonnage of fish that have been trans-shipped or offloaded at Port Victoria in 2011.
"During the first 6 months of 2011, receipts have been USD45.6m," he noted.
He said it is important that SFA and all the agencies which are responsible for the management of this resource take the leading role in ensure that we exploit the resource sustainably.
"This resource represents the livelihoods of a number of families, and it is also our role to supply the population with its supply of fresh fish at an affordable price," Mr Faure said.
Talking about future investments for the fisheries sector, Mr Faure said the SFA will next year spend R1.1 million to construct a sales stand, or market, and other facilities for fishing at Roche Caiman to make the area more hygienic and easier for the fishermen to moor their boats.
Other infrastructural projects will include processing plants at Bel Ombre and Providence on Zone 6 to allow for value addition processes to take place. These projects were recently tendered and plans are being finalised for their implementation. The projects are scheduled to be completed over the course of 2012.
The construction of a fuel depot for Providence on Zone 6 is at an advanced stage. The project is expected to benefit the fishing community and facilitate their activities. All these projects are being financed by the European Union under the fisheries partnership agreement.
SFA is also working with the fishing community of Praslin to develop and improve their current facilities.
Looking back at what has been done this year, Mr Faure noted construction work on the restoration of artisanal fishing pier at the Old Port which had suffered extensive damage following the December 2004 tsunami.
This restoration project was financed by a development grant from the Japanese government through the World Bank and has cost R23m.
The project has helped the fishermen with more space, increased maneuverability and unloading space, all of which increase their operational efficiency.