Record bids received for upkeep of school grounds
01-December-2011
This was revealed yesterday by the National Tender Board's chief executive Mina Crea when the bids were opened.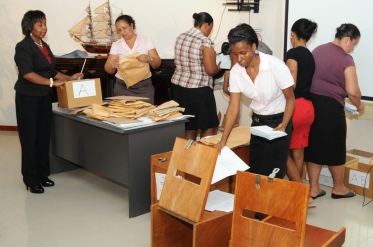 The tender documents, placed in sealed envelopes and containing the bidders' identification with tender prices, were opened by officials of the Education ministry.
The bids were then read out one by one by Ms Crea and information recorded by Juliette Haide of the Tender Board.
This exercise began at 10am and continued until late afternoon. By that time, most of the bidders had left, as it was obvious that the tender process would be a rather long one.
Some tender documents have been submitted by just one person, while others pertain to companies set up for that purpose.
The schools and buildings were categorised into 28 lots. For instance the entire grounds of the Ministry of Education at Mont Fleuri constitutes one lot. The Bel Ombre and Glacis creche and primary schools constitute another.
The controller of the Department of Education's division of Finance and Procurement, Melinda Malbrouk, told Seychelles Nation that bidders are entitled to submit bids for one or more lots.
The tender documents will now be analysed by a six-member internal evaluation committee, who shall base their recommendations on whether the requirements are likely to be fulfilled.

The requirements include keeping the lawn in good trim, collecting all refuse and wastes, cutting trees according to the specifications of the Environment Department, etc.
The committee will in due course make recommendations to the National Tender Board.