Prison services and SIM discuss strategic plan 2012-2016
02-December-2011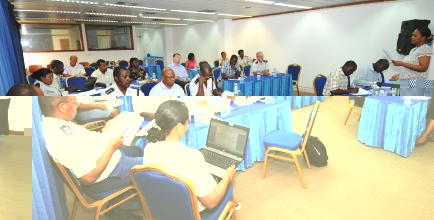 Taking part in the one-day workshop were some prison staff, including superintendent Maxime Tirant, senior officials of the Seychelles Hospital's mental division, members of the Friends of Prison and the SIM.
The inmate population has trebled in the past three years – from 120 when the new Montagne Posée prison was opened to 475, including 20 women presently.
Also included in that number are 50 inmates serving time on Coetivy island, where they volunteered to go and are engaged in fishing, farming, animal husbandry and site clearing.
It was felt that the public perception of the prison being a "cushy" place, where inmates come out only to return after a short while outside, must change.
The swelling prison population is largely linked to drugs and other toxic substances, prompting users to perpetrate various other crimes, often violence-related.
The prison's dual roles are to keep convicted offenders in custody and to rehabilitate and prepare them to re-integrate into society.
The workshop delegates worked in committees and submitted reports indicating that the second objective of the prison was far from being achieved. It was noted that the prison is subjected to overcrowding, lack of infrastructure and inadequate staffing.
Mr Tirant told Seychelles Nation that presently the rate of recidivism was moderate, but is likely to swell because of growing social problems such as drug and alcohol abuse, child molestation, domestic violence and other ills.
"Unless these are addressed, the prison population will continue to swell," said Mr Tirant.
He noted the prison does not pick its inmates and must do the best for them in difficult conditions.
They, however, made recommendations to ensure inmates come out of prison as law-abiding citizens.
It was recommended that more emphasis be placed on the rehabilitative aspect of the prison.
It was felt there is a need for more counsellors, and at least part-time mental health professionals.
Recreational facilities – presently lacking – must be increased, with more importance put on sports programmes and spiritual services.
Presently, inmates are not compelled to go through apprenticeship programmes or even do any work. It was felt it is important that they remain active and productive as part of the rehabilitation and this should be enshrined in legislation concerning the prison.
Presently, there is only a part-time medical officer who said he can only attend to patients in an unhygienic room with hardly any confidentiality.
The prison service is often viewed as the "forgotten public service". It was felt that this has to change radically, if we wish not to see a further escalation of crimes.