Sals students get new sitting area
02-December-2011
Sponsored by Allied Builders in collaboration with the Lions Club of Paradise Seychelles (LCPS) and the Anse Royale foundation, the two sitting areas – built in a kiosk-like structure – have cost R210,000.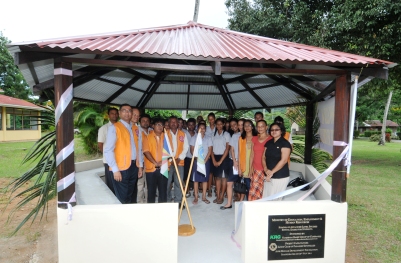 The kiosks were officially handed over to the department of education in a short ceremony on Wednesday on the Sals premises at Anse Royale.
Present for the occasion were secretary of state Barry Faure, principal secretary for education Merida Delcy, other high officials from the department of education, Anse Royale's elected Member of the National Assembly Dereck Samson, LCPS members and students of the school.
The institution has almost 400 A-Level students and even though they have flexible hours, there was a shortage of sitting areas for them on the campus, especially during non-contact time.
Before the construction of the two kiosks, there was a concrete bench under a tree, one kiosk and one common room on the campus.
A request for sponsorship of sitting areas was made to some potential sponsors and the LCPS responded positively.
After site visits were made, the project proposal was sent to the department of education and was approved before construction began in October and finished at the end of last month.

The hexagonally-shaped kiosks with aluminium roofing are located opposite each other with pathways connecting them. They have concrete seats and will be able to accommodate between 25 and 30 students at any time.
During the hand-over ceremony, Mrs Delcy led the way in cutting the ribbon before the students tried out the new facility.