Make-up: Creating your own beauty
02-December-2011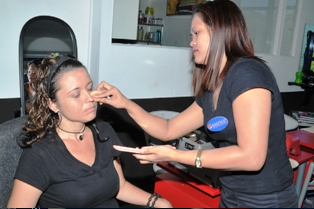 Make-up is all about being fashionable; for some of us, applying it has become part of our daily routine, like applying concealer or foundation to hide a scar.

There are different types of make-up and all are somewhat associated to different events and is of vital importance to a woman.

When applying make-up, skin color and type, hair style and accessories must be taken into consideration to complement the outfit.

Women often wear make-up to complement their outfit, personalities and at times just for fun or out of habit.

A business woman will not go for heavy make-up but a party girl would!
Therefore the business woman will go for a bit less colored make-up to complement her work clothes and skin tone.

While young nice girls often go for light make-up complementing their faces only.
Party girls
Glossy lips, smoky eyes, shiny face and that pink cheek blusher define a party girl.
These girls are always wearing shiny foundations, bright colored glittery eye-shadows, dramatic mascaras, liquid liners, eye and lip liners and finally to complete the party look, the perfect rouge à lèvres.
Blending two or at times even three eye shadows together to get the perfect party look is also part of being a party girl.
Bringing spice to that little black dress and heels you've always wanted to wear with perfection complementing that great silhouette of yours giving you the definition of glamorous, and not forgetting your accessories for the night.
Young nice girls
What are young nice girls made up of?

Not so pretty pink make-up, eye-liner, lip gloss, mascara and light nail-polish are what young nice girls are made up of.

They often walk around with their own little make-up set in their hand bags and at certain times their lip-gloss only.

That is because these girls are the kind that apply or do re-touch of their make-up from time to time daily and they are the kinds that also carry their mirrors and make-up wipes around with them.

Making reference to the girls of the Seychelles Tourism Academy, one will only find one out of five girls with no make-up on and that is because most of these girls are all about paying attention to their appearances.

They are considered as young nice girls because of the types of make-up they wear.
Business women
Keeping it all simple but attractive -- that is what most business women go for in make-up.
Hair loose, pin-up back or even simply a bun must harmonise with a business woman's make-up and clothes.
These three leads to a professional look and shall hide imperfections of a business woman.
Face foundations, well trimmed eye-brows, the famous red lip-stick with shiny lip gloss, brown eye-pencil eye-shadows complementing the skin and the foundation, mix it all together and you get the perfect business woman-look in vogue.

Re-touch must be acquired every single time you feel that the make-up itself is fading away just to keep the face fresh.

Being a business woman is not only knowing how to get your money, but getting your money with style and also a little bit of glamour.
Local views
To get a local view on the subject, I went at the Essence Hair and Beauty Salon where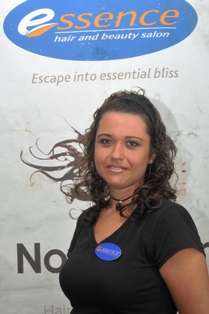 they say that "bending eye-shadow and heavy make-up are in trend".
"When choosing the perfect foundation, you must apply it on the wrist to see if it matches your skin colour because your face cannot be a color and your neck another. Therefore choosing the right foundation is very important," says Mary-Jane Cambel, one of Essence's make-up artists.
Ms Cambel likes her make-up light; her eye-shadows and lip-stick must always match, complementing her nice personality and face.
"I usually wear dramatic eye-liner which I do with eye-pencil, concealer and glossy lip-gloss to come to work, but I like wearing heavy make-up," says Maria Chang-Sam, another make-up artist at Essence.
Since Seychelles is a tropical country, it is advisable to wear water proof mascara, concealer instead of foundation and apply eye-shadows only when going to cool places where the make-up won't melt or else you will find yourself walking around with make-up wipes.
Keeping it simple and natural is the key, but a little make-up from time to time won't hurt.
Compiled by Beverley Freminot