Support groups bring disabled together to mark their day
05-December-2011
The activities, held at the Le Marinier at the inter-island quay, were organised by the Community Development Department in collaboration with the National Council for Persons with Disabilities, Faith and Light and the Association of District Disabled Support Group.
Attending the event were the Minister for Social Development and Culture Bernard Shamlaye; executive secretary for the National Council for the Disabled, Céline Fanchette, who is also chairperson of the Association of Disabled Support Group Seychelles; Betty-Mai Sofa, programme director in the Department of Community Development; and people with disabilities from different districts and age groups who had come to enjoy the event.
Mrs Fanchette said because the official International Day of Persons with Disabilities fell on Saturday, the Community Development Department found the following day, Sunday, more convenient to hold the celebrations.
"We thought it would be less hectic and this year we decided to make them come a little earlier than usual so they would have time to relax before the Mass which is held every year for this occasion," she said.
The Community Development Department said the aim of the activity is to encourage spiritual development among people with disabilities, promote shared experiences among participants and provide opportunities for them to develop friendships, mentors and role models to help them integrate better into society.
Another aim of the event is to showcase the potential of persons with disabilities through art and craft items which were on sale on that day.
"We had held several workshops where most of them were able to create art and craft products so we figured why not sell them," said Mrs Fanchette.
Among the activities yesterday was a meet-and-greet session, where persons with disabilities shared their experiences with each other with regard to similar conditions. This was later followed by a mass presided over by Reverend Simon Fred from the Anglican Church and Father Collin Underwood of the Roman Catholic Mission.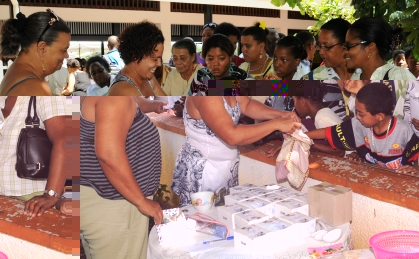 Those present also had the chance to view and buy art and craft items – made by the disabled – as well as share lunch together before dancing the afternoon away in a 'hop'.