Cerf Island Resort doubles its villa capacity
05-December-2011
The 24 posh villas are owned by Vijay Patel and managed by Francis Mondon, who has previously headed some large establishments on Mahe.
Besides the villas, which all have names of endemic trees, flowers and marine creatures, there is also the "Lantannyen Spa", tennis court, swimming pool and two restaurants – 'Zepis' and 'Le Cerf'. The latter bears the name of the exploration vessel Le Cerf, after which the island is named.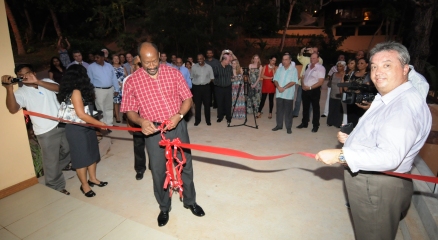 For the opening on Thursday, guests -- including Minister designate Vincent Meriton, Minister for Investment, Natural Resources and Industry Peter Sinon and Seychelles Tourism Board chief executive Alain St Ange -- were taken to the small mountain top, where there is a helipad.

That is a short walk, or ride in a buggy uphill, with villas tucked on both sides of the concrete road. The flat top commands a stunning view of all other islands of the St Anne Marine Park -- St Anne, Long, Round and Moyenne .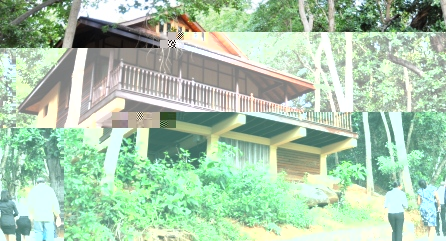 Guests travel by buggy from their villa to other points in the resort.
Mr Patel said if guests have been saying they are "pleasantly surprised", so is he.
Speaking at 'Le Cerf' restaurant after a tour of the resort, he recalled that it all started 10 years ago, when Vijay Construction was involved in the construction of five villas owned by South Africans and local partners, who ran out of funds and also parted ways.
He eventually decided to purchase the property and add on more and better quality villas.
For his late son, Surya, that was a challenge, but sadly he passed away three years ago, before the project was completed, not fulfilling his dream.
Mr Patel noted that the resort blends well with nature and is characterised by an in-house design. A lot of wood has been used in the construction with concrete kept to a minimum.
He also noted that most staff are Seychellois.
"We feel confident that we can deliver," he said.
Minister Meriton noted that Vijay Construction was the top local sponsor of the recent Indian Ocean Games. He said he was pleased with the resort now extended, which is the 103rd in that category.
Mr Meriton said that in Seychelles, there is a need for quality establishments, such as Cerf Island Resort, to cater for a high-end clientele, noting that for decades Vijay has set standards in different kinds of construction.
He said the R100 million investment by Vijay into the resort is proof of the confidence in Seychelles' economy.
Mr Meriton also noted that to respond to the unstable world economy, there is an urgent need to diversify our tourism market and it is towards this end that President James Michel, who holds the tourism portfolio, has taken the initiative to tap in the Asian and Middle East markets.
Mr St Ange said he is impressed with the resort, which he said fits in well with the "Seychelles brand". He said the Cerf Island Resort was a bold investment by a local resident, being a good response to President Michel's call to "claim back our tourism industry."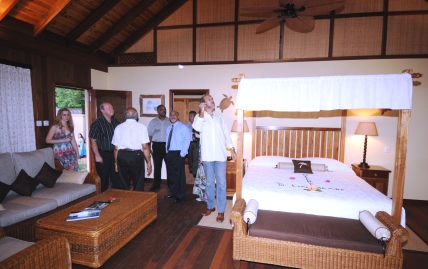 He also expressed satisfaction that such a hotel, in typically Seychellois surroundings, is being managed by someone of the calibre of Francis Mondon.
"It is the kind of product that visitors to Seychelles hope to discover."
Clients are moved between Mahe and Cerf by speed boat within ten minutes.
There is a special resident's rate, which is R3900 half-board for two.