Get photographed drinking Cool Sun juice for charity
06-December-2011
This only if they agree to be photographed drinking this juice brand.
Cool Sun team members have been around taking pictures of people enjoying the refreshing drinks and so far various people have been lucky winners (our picture).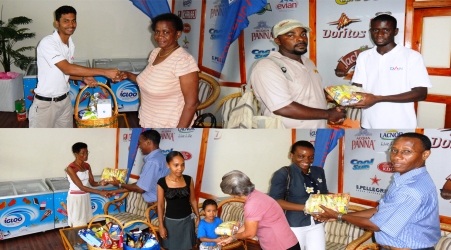 Two lucky winners for a R500 gift voucher are chosen every day.
Sylvianne Stravens, a spokesperson for Dan Imports -- the sole supplier of Cool Sun products in Seychelles -- said parts of the proceeds from this promotion will go towards projects for orphanages and other charitable causes thus bringing Christmas and New Year joy to the less fortunate.
She said the handover of the proceeds are expected to be made during the festive period.
If you enjoy the juice brand you stand a chance of winning interesting prices ranging from a 1st prize of R10,000 to a gift voucher of R 1,000.
But more importantly, you will be contributing to bring joy and happiness to others.