Mancham returns with peace award
06-December-2011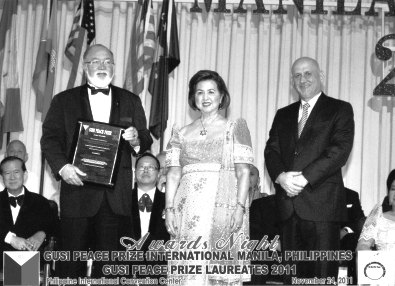 From Manila, Mr Mancham proceeded to Seoul, Korea where he co-chaired the Annual Meeting of the Global Peace Festival Foundation (GPFF).
The GPFF convention concluded with unanimous adoption of what has been termed the Seoul Declaration 2011 by virtue of which the over 1,000 delegates attending the convention resolved that all nations and religions in the world should work for peace within the spirit and framework of the concept of "One Great Human Family Under God."
Mr Mancham is leaving Seychelles again on Thursday for Mauritius where Mauritian President Sir Anerood Jugnauth and himself will be the guests of honour at a special gala evening organised to commemorate the memory of the late Gaetan Duval.
Mr Duval was a flamboyant and popular political leader in Mauritius in the 60s and 70s – and is today remembered, in his country, with affection, as "Le roi de Créole".
Mr Mancham was a close friend of Mr Duval and together took part in many international conferences during Mr Duval's lifetime.
Mr Duval was also the father of Xavier Duval, who is currently the Vice-Prime Minister and Minister for Finance and Economic Development.
Mr Mancham will return to Seychelles on Saturday December 10.