Ambassador Joseph Nourrice accredited to Mozambique
07-December-2011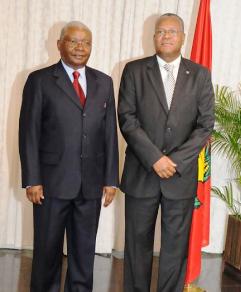 Mr Nourrice presented his credentials on November 16 to Mozambican President Armando Guebuza.
Mr Nourrice is Seychelles' second high commissioner since the country established diplomatic relations with Mozambique in 1983.
During his audience with President Guebuza, discussions centred on some of the common interests of the two countries of which piracy was prominently featured.
Mr Nourrice briefed President Guebuza on the latest piracy developments in the region and the need to intensify efforts to rid the continent of this phenomenon, particularly as Mozambique also has nationals being held in captivity by pirates.
President Guebuza also expressed satisfaction at the level of relationship between the two countries with the need to further enhance co-operation at bilateral level in new emerging areas.
Mr Nourrice also met Henrique Banze, the deputy minister for Foreign Affairs, to discuss a number of bilateral issues, including visa exemptions for Seychellois travelling to Mozambique, the conclusion of the double taxation avoidance agreement, and cooperation in fisheries, trade and investments, and climate change among others.
Mr Nourrice also briefed the Mozambique government on on-going developments in the Indian Ocean Commission where Seychelles has taken over the presidency and the new vision of this organisation, namely as the advocate for Small Islands Developing States.
It was noted that with globalisation, cooperation within the region is becoming more important and this should be further developed and maintained at both bilateral and multilateral levels.
Mr Nourrice also met the director of investment, the mayor of the Matola region and other high officials in the Mozambican republic.
Mr Nourrice, who is also Seychelles' resident high commissioner in South Africa, said he is very optimistic about the new dimensions cooperation between Seychelles and Mozambique is set to take.