Banyan Tree employees get long service awards
09-December-2011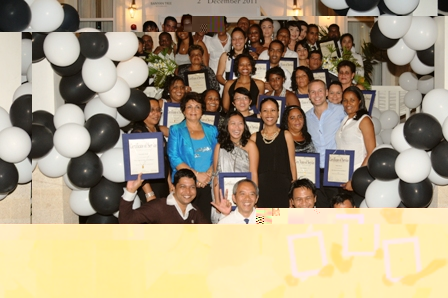 The black and white-themed ceremony, during which staff who have clocked five and 10 years with the hotel were rewarded, was attended by the Minister for Education, Employment and Human Resources, Macsuzy Mondon, employment principal secretary Marina Confait, Banyan Tree Seychelles resort general manager Anders Dimblad, human resources manager Natalie Laljee and the long service awardees.
In her speech, Minister Mondon thanked the Banyan Tree Seychelles resort management team for organising the event for its long serving employees.
"This is an event that we, at the department of employment, encourages because we feel this is an occasion to recognise the staff who have spent long years working in a particular organisation," she said, adding the department does not simply come to organisations when there are problems to solve but also to share the good times with staff and management.
General manager Dimblad congratulated all awardees and said it is the first time the Banyan Tree Seychelles resort has awarded staff working for as long as 10 years with the company.
He added that the Banyan Tree group plans to open 10 new properties over the next two years.
After viewing a short slide show of their time spent at the hotel, the awardees were each given a certificate and a medal as symbol of their long-standing devotion to the establishment.