New agreement to include biodiversity in land use plans
09-December-2011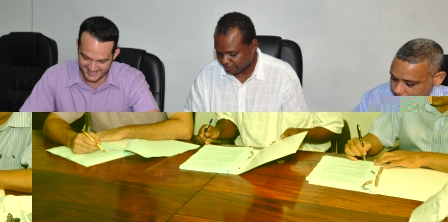 The signing ceremony took place recently at the Ministry of Land Use and Housing at Independence House. Chief executive Gerard Hoareau signed on behalf of the planning authority, land use and housing principal secretary Christian Lionnet signed for the ministry, and environment principal secretary Didier Dogley signed for the United Nations Development Programme (UNDP).
The main objective of the project is to integrate biodiversity conservation into key production sectors of the economy in Seychelles.
It is also for the informed inclusion of relevant biodiversity concerns into the decisions of public and private institutions that drive national, local and sectoral development policy, rules, plans, investment and action.
The MoU is the second such agreement signed between the government of Seychelles (GOS), the UNDP and the Global Environment Facility (GEF) programme coordination unit (PCU) and the Ministry of Land Use and Housing for the development of the district land use plans being financed from two projects managed by the PCU.
Under this new agreement, three land use plans – for Praslin, La Digue and Anse Royale – have been finalised and the first drafts for seven districts on Mahe have been prepared for consultation with stakeholders in the Beau Vallon, Bel Ombre, Glacis, Anse Aux Pins, Au Cap, Takamaka and Baie Lazare districts.
The agreement also covers the consultant's one-year contract extension. The consultant is based at the MLUH and is helping with the preparation of the land use plans.

It also covers the provision of additional equipment/tools for the Geographic Information System (GIS) unit of the Ministry of Land Use and Housing to ease the production of the district land use plans and the recruitment of Michael Wagner for the review and reporting functions of the recently developed Geo-database, which links data for planning, lands unit, housing, department of environment and the registrar.
The first MoU was signed in August 2009 and has elapsed.