UniSey staff and students 'brighten up' elderly's home
10-December-2011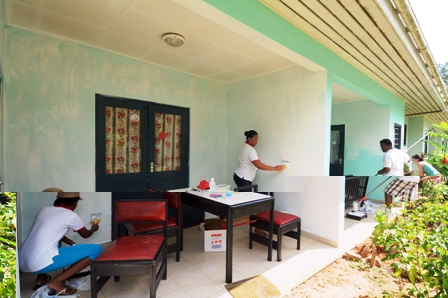 Some volunteers clean the compound while others give a fresh coat of paint to the home
Among the volunteers was UniSey registrar, Michel Denousse, who told Seychelles Nation that although the activity was supposed to start at 8.30am, some staff had already arrived on location at 8am and had already started working.
"The aim behind this activity is to show members of the public that UniSey is not simply an academic institution, but one which can also give back to the community especially during the festive season," he said, adding it was UniSey's management who came up with the idea for volunteer work.
"We thought it would be a nice gesture for the elderly people to have their houses cleaned and re-painted as most Seychellois like to re-vamp their homes at this time of year."
After the clean-up activity was over, residents of the home along with UniSey staff and students enjoyed a lunch and some refreshments.
"We hope we can make the residents of Au Cap Home for the Elderly feel special and a lot happier today," said Mr Denousse.
He added that, though no specific date has been set yet, the team is planning to carry out the same kind of work at the Anse Royale home soon.
He also said it is the intention of the UniSey to adopt at least one elderly home but the decision has not been taken yet.
Also present during the activity was the UniSey's president and vice-chancellor Dr Rolph Payet.