New business venture takes entertainment to the next level
10-December-2011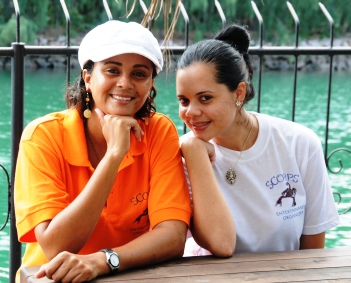 Definitely not new to the public, they've got talent and are now entering the entertainment business as event coordinators.
Vurna and Sly, creators of the new Scorps Entertainment business, say the idea stems from both parties being scorpios by zodiac sign.
In a small but hilarious interview with Seychelles Nation both ladies gave us a heads up on what the public can expect from the duo in the coming months.
"Scorps Entertainment coordinates events," said Vurna matter-of-factly.
"Basically, you give us your budget and we plan the event according to what you have provided down to a 'T'."
She explained that "everything -- from cakes, decorations and master of ceremony -- is provided," and that they even go the length of dressing up as different characters as per theme.
"We would like to announce that we are also planning children's parties where I'm sure they will enjoy what we have to offer," she said, turning to Sly who gave her the thumbs up.
"Children love to laugh, they love entertainment and they love dressing up all of which we do."
Aside from party planning, Vurna also explained that Scorps Entertainment caters for other different requests such as setting up adverts, photography, wedding planning, and performing in live shows for those who request it.
"Honestly, with the amount of businesses blooming recently, I think we offer pretty fair and competitive prices," said Vurna, adding that Scorps Entertainment "is really going the distance".
"In fact, the company will begin shooting a new Creole comedy called 50enm Lanniverser Msye ek Madanm Zonas early next year and it is in fact produced by us."
"Of course I will be on the sidelines cheering her on the whole time," said Sly.
"We're a team and when I release my next album – which will be soon – Vurna will be helping me out with that as well."
Anyone wishing for more information regarding Scorps Entertainment can contact Vurna on 2831 555 or Sly on 2831 444.
Beverley Freminot