Planning authority gives nod to IDC's villa project
13-December-2011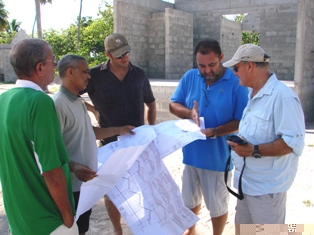 The chief executive of the Planning Authority, Gerard Hoareau, who is also chairman of the authority's board, made the statement after board members visited the construction site of the fourth phase of the luxury beach villa project the IDC is undertaking on Desroches.
The board members were led round the construction site by the IDC chief executive Glenny Savy.
Mr Hoareau said the visit is in line with the board's new vision of being site-oriented instead of an office-based practice which is far less effective and can have negative repercussions in the future.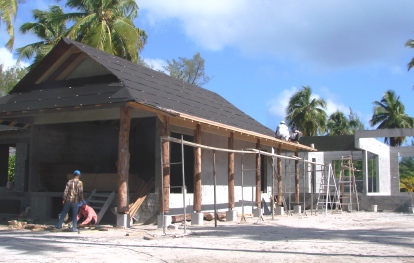 He explained that they were impressed by the way construction work is being carried out and also the initiative of the IDC to include extra elements to enhance the project, taking into account safety and environmental issues.
"The quality and standard of the materials being used and the workmanship is excellent," he said, adding that the IDC has also applied some of the most important regulations beyond the expectations of the authority.
An example he gave is the high-water mark and one metre requirements when building along the coast, saying that construction has been done well above this standard.
"Climate change has also been taken into account by the IDC," added Mr Hoareau.
He explained that the company is heading towards 'green technology' despite the high cost that comes with it.
This, he said, will be beneficial in the long run.
Mr Hoareau also said the construction methods and techniques cater for weather changes, such as strong winds and extra high tides.
During the visit, Mr Savy also had discussions with board members of the planning authority about IDC's new plans to not only create a better and more comfortable environment for the island, but also for it to be better linked with nature protection and also to reduce cost.
These include new natural water-catching and storage facilities and also increasing the use of solar energy.
Mr Hoareau said they welcome the ideas and are willing to advise on their realisation.
Four new villas are being built in the fourth phase of the project and they will add up to the 30 which are already operational on the island.
Their construction is in line with the company's mission which is 'to ensure that the outer islands actively contribute to the socio-economic development of Seychelles, while adhering to the highest environmental standards'.
While on Desroches, the delegates also worked on the revision of planning regulations – set up in the 1970s and revised in 1991 – to bring up a more detailed and organised document which will ease the whole construction process in the country. This, Mr Hoareau said, is also in line with the board's new vision to be more efficient and professional.