Complete makeover for tourism academy
13-December-2011
A memorandum of understanding for the re-construction of the academy was signed yesterday afternoon between the Seychelles Tourism Board (STB) and the Yangtze construction Company, which was the successful winner of the tender for the project.
The signing ceremony took place at the STA premises, La Misere, between the STB's deputy chief executive Elsia Grandcourt and the managing director of the Yangtze Company Zihai Yang.
Ms Grandcourt said the project will be done in two phases, the first of which will be the construction of classrooms, language labs, administration building and a demo kitchen and restaurants.
The second phase will see the construction of a wellness and spa centre, a small hotel and chalet, where students will get first-hand experience at working in the industry and with clients.
The project is financed by a loan from the Arab Bank for Economic Development in Africa (Badea) as well as by the government of Seychelles.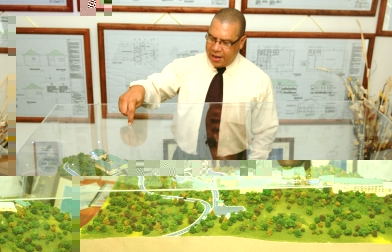 The STA principal Flavien Joubert said the new institution will also comprise a conference centre and two restaurants, which will have Peter Moncherry as the general manager.

"The academy will also attract overseas students, whose governments have already shown interest in sending their students here," he said.
"Countries like Gabon, South Africa, India and Pakistan have already pledged their support and are ready to give scholarships to their students to come and study here at our new academy, which will have the capacity to give the professional service expected of it."
Mr Joubert said they have a capacity-building programme to continue raising the standards of their staff, such as providing them with opportunities to follow Master's degrees.

During construction, the students will be housed in the former STA hotel rooms, which have been fitted with air-conditioning and converted into classrooms which can take 12 students each.