Brazil offers to help bolster Seychelles' good progress
14-December-2011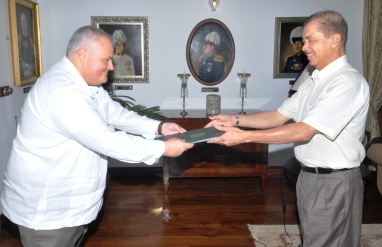 Francisco Carlos Luz said this yesterday after he presented his credentials to President James Michel at State House, becoming his country's new ambassador.
"Seychelles has the best human development index in Africa, much higher than ours, but we still have policies that could be applied here in an ongoing important exchange of experience.
He said his country is working hard to ensure nobody in his country is under the poverty line and hopes other countries could use similar policies to boost their development efforts.
"We are willing to work with them to see that policies that work in Brazil could also work in these other countries.
He said Brazil is increasing its presence in Africa where it has 33 embassies giving the Southern American nation "one of the biggest networks in the world".
Mr Luz said his country is multi-ethnic like Seychelles with 90 million of its 200 million citizens being of African descent.
Mr Luz said his country can give a different kind of South-South cooperation from that offered by other countries – one without too many conditions attached – so as to meet the specific needs of given nations.
Brazil has reached a level of development that makes it necessary to contribute through its presence to peace and stability in the world which can only be got through development, he said.
He appreciated Seychelles support for former Brazilian food security minister Jose Graziano da Silva who was in June elected as the director-general of the United Nations Food and Agriculture Organisation (FAO).
Mr da Silva's election marked the first time the Rome-based organisation has ever been headed by a Latin American.
He was previously FAO's regional representative for Latin America and the Caribbean, and replaced Jacques Diouf of Senegal.
Mr Luz will today call on speaker of the National Assembly Dr Patrick Herminie.