Drone crashes at airport after engine failure
14-December-2011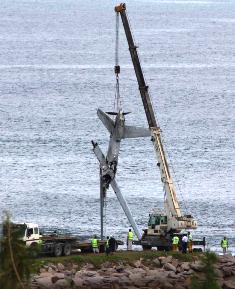 The MQ-9 was not armed and no injuries were reported
A US remote piloted MQ-9 aircraft took off from Seychelles International Airport at 10.13am on a routine patrol. Minutes into the flight, the tower was informed that the aircraft was experiencing engine problems and needed to land as soon as possible," said the SCAA in a statement.
"The drone landed with a failed engine at 10.19am but due to its accelerated landing speed the aircraft was unable to stop before the runways' end. It exited amongst rock armouring at the extreme Southern end of the runway at which point a fire broke out due to the impact," it said.
SCAA's public relations officer Lina Laurence said the Seychelles International Airport Fire Services immediately intervened and the fire was controlled within minutes.
"There were no injuries reported, or material damage to airport facilities, and the runway involved was closed for about 10 minutes as a precautionary measure, following which services resumed with no disruption to airport operations," she said.
The SCAA and the US embassy thanked the airport emergency services and ground crew for their prompt intervention in containing this incident.

The SCAA and other agencies recovered the wreckage.
"It has been confirmed that this drone was unarmed and its failure was due to mechanical reasons," she said.