Visa exemption pact with Brazil to lure visitors here
14-December-2011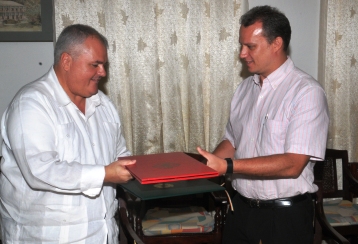 The agreement will also highlight the fact that visitors to Seychelles do not need a visa, and hopefully boost tourism from Brazil, said Foreign Affairs Minister Jean-Paul Adam, who signed the agreement with Brazil's new ambassador to Seychelles Francisco Carlos Luz.
Mr Adam thanked Mr Luz for showing personal interest in getting the agreement concluded.
He said the agreement will also help business links between the two countries and allow Seychellois easy access to Brazil when it holds the 2014 World Cup.
Mr Luz thanked Seychelles government for its input in getting the agreement ready within a short time, noting for such a document to go through the Brazilian side normally takes time and is not easy.
He said it will still have to go to the country's congress, and hoped it will entice more Brazilians to come here.