Durban summit on climate change-Local delegates back with "mixed feelings"
14-December-2011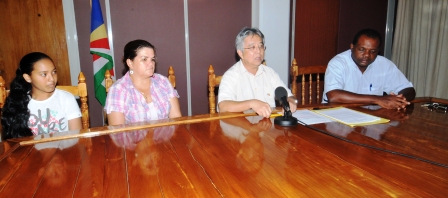 After the conference was prolonged by over 24 hours amid difficulty to reach an accord, there was agreement to meet again in 2015 for a treaty with "legal force", but there was no concrete action.
There has also been agreement to set up a "Green Climate Fund", though it is unclear who will be the main contributors. This is aimed at helping the weaker and smaller nations, which are most vulnerable to the ravages of climate change.
"We've come back with mixed feelings. We are not entirely satisfied. But, it is still better than nothing," said Social Development and Culture minister Bernard Shamlaye, who had replaced Home Affairs, Environment, Transport and Energy minister Joel Morgan as Seychelles' head of delegation.
Mr Shamlaye was accompanied by an important delegation made up of Seychelles' ambassador to the UN Ronny Jumeau, environment principal secretary Didier Dogley and the head of the Focal Point Seychelles on climate change Wills Agricole.
After the 2009 Copenhagen earth summit had failed to produce anything tangible, as follow-up on the 2005 Kyoto protocol which went into force in 2005 aimed at fighting global warming, there was little expectation from the Durban gathering.
Mr Shamlaye told the press yesterday that the last-minute "agreements" are supposed to bind all countries to take necessary measures to ensure global warming does not exceed 1.5 or at most 2 degrees celcius. This is the level of global temperature that science has proved is sustainable for the Earth to continue existing.
He noted that at the summit Seychelles joined the Alliance of Small Island States (Aosis), totalling 43 countries, to speak with one voice. He said that although being small, we have so much in common. Most of the Aosis countries have small economies, are very dependent on just one or two economic activities and are very vulnerable to external shocks.
The situation was rather "fluid" as far as alignment of countries at the Durban summit, said PS Dogley.
For instance some emerging developing countries, called the 'Brics' and consisting of Brazil, Russia, India, China and South Africa, which are presently fast developing and emitting a lot of carbon, tend to be more aligned on the bigger countries than the small states.
The European Union said it won't move ahead with deeper Kyoto protocol commitments until all nations negotiate a new climate pact.
Russia, Japan and Canada will not continue under Kyoto, after the initial round of cuts expires in 2012.
The US never ratified Kyoto, claiming it won't move forward without binding commitments from China.
Australia, which recently passed the world's first carbon tax, along with New Zealand, say they won't implement deeper cuts in carbon emissions under a new Kyoto protocol unless all the big polluters sign up.
Minister Shamlaye said it was also proposed that taxes be imposed on air and maritime transportation as a way of reducing carbon emissions. This is, however, opposed by countries which depend on tourism and trade for their revenue, such as Seychelles and other small island states.
Beyond the summit, Mr Shamlaye said everyone should realise that climate change is a reality that we cannot run away from.
He advised everybody to do his or her bit to ensure that carbon emissions remain within safe levels. This can be done by a healthy lifestyle and adopting a good consumption pattern. "We can work our various ways to save electricity and water, thereby spending less and conserving the environment."
Seychelles showcases rain-harvesting project at Durban summit
Within the framework of the summit on climate change in Durban, Seychelles showcased a rainwater harvesting project.
The presentation was by Sonam Tsultrim, a 12-year-old student from Anse Boileau secondary school and the youngest delegate at the summit, who was very well applauded.
She was accompanied by the head of the educational unit for sustainable development Jeanette Larue, who said rainwater harvesting not only saved on public utilities bills, but also helped avoid restrictions, which disrupt school programmes.
The Seychelles rainwater harvesting project was among 10 selected by the United Nations Environment Programme (UNDP). Among the guests were UN secretary general Ban Ki-moon and South African President Jacob Zuma.
Tsultrim was shown on big screen, explaining how the project, now part of the schools' curriculum, saves energy.
She said unlike some other countries such as Kenya, which had a heavy input from Scandinavia, the Seychelles project was conceived and implemented entirely by Seychellois.