UniSey promotes courses on offer
15-December-2011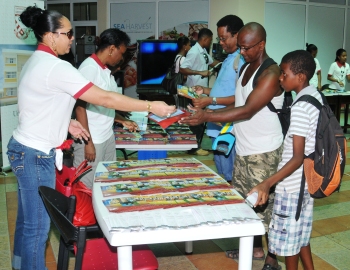 Held at the Orion Mall, the event – dubbed the UniSey Extravaganza – aimed at marketing the courses available for the 2011-2012 semesters and the qualifications one would need to apply, although the event was not for taking in applications.
Courses marketed in the extravaganza included a new one called BSc in Environment and Specialisation – to replace the Geography and Environment course which is being phased out, and others like BSc in Economics and Finance, Business Administration, Law, Accounting and Finance, Banking and Finance.
Others still included three-month corporate courses and others which are due to start in 2012, all of which could be seen on the brochures and prospectus available.
Some of the courses are also international ones, made possible through the partnership the UniSey has with the University of London.
The marketing and public relations coordinator Sheryl Barra said the fees for each course vary and there are some which carry a period of bonding.
"This is the first such activity we (the UniSey) organise and we will evaluate the outcome and see into the possibility of doing another one early next year," she said.

"We also want people to know that the university will be taking an end-of-year break as from December 19. They should either apply before that or do so when we resume normal operations from January 5."