Centre remains committed to boost sports training level
15-December-2011
Bernard Denis, director for sports training and technical development in the NSC and also the head of the training centre, made the statement after a group of sports cadres who have followed various courses offered by the training centre in 2011, received their certificates.
The presentation ceremony took place at the training centre, at Stad Popiler, last Friday.
The graduates received certificates after successfully completing courses in Sports Medical Assistant levels one and two, National Coaches Accreditation Programme level two and Advanced Sports Management. The Advanced Sports Management course was conducted under the auspices of the International Olympic Solidarity through the Seychelles Olympic and Commonwealth Games Association.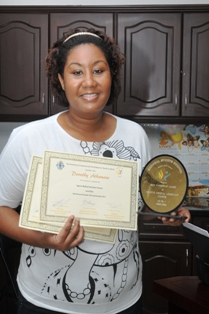 Mr Denis said in 2011, the training centre was busier than usual as there were additional sessions related to the 8th Indian Ocean Island Games (IOIG) held here in August. The additional courses and seminars gathered the chairpersons of the organising committees of the sports involved in the Games, medical assistants and coaches.
They were briefed about the Games' charter, general regulations as well as the technical regulations of their respective sports.
Mr Denis said the training centre does not offer courses on technical aspects of individual sports, but rather the scientific aspects of sports, covering the application of scientific principles and techniques with the aim of improving sporting performances.
He added that the training centre aims at offering high standard courses, not only to maintain its standard, but also to match the growing demand with the increasing focus within the sporting world to achieve the best results possible.
Mr Denis further added that the results of the various programmes are visible and a typical example was the good quality performance of the medical team during the IOIG. He also said progress can be accessed through the quality of work delivered by some of the cadres who started from scratch.
At Friday's ceremony, those who excelled in their respective courses were rewarded.
For Sports Medical Assistant level one, Dorothy Athanase was the best performer, while Philip Verghese was the best in the Sports Medical Assistant level two group.
Weightlifter Janet Georges was the best for student of the National Coaches Accreditation Programme level two, while Gretel Nenesse received the award for best contestant in the Advanced Sports Management course.
Philip Albert, who graduated in the Advanced Sports Management course, received an award for best effort.
R. D.