Top class Mauritius hotel to host STA students for wellness & spa training
15-December-2011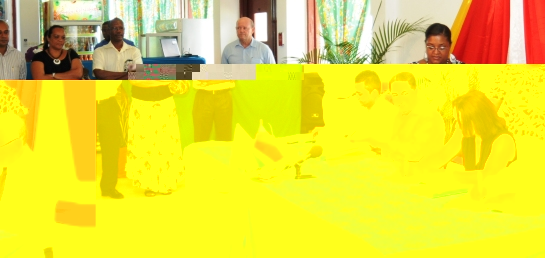 The signing of a memorandum of understanding (MoU) took place yesterday at the STA by the deputy chief executive of the Seychelles Tourism Board (STB), Elsia Grandcourt, and the chief executive of Shanti Maurice, Mr Puri, who is based in London.
Also present was STB chief executive Alain St Ange, STA principal Flavien Joubert, several managers of top hotels and senior government representatives.
Ms Grandcourt said the agreement with the new Mauritius hotel will allow more Seychellois making a career in tourism to develop from the expertise of the Nuri hotel group.
She announced that two lecturers from the STA will be the first to benefit from such partnership, starting mid-January.
Mr Puri, who also has two other Nuri hotels under his management -- Nira Alpina in Switzerland and Nira Caledonia in Edinburgh, Scotland -- said that is his first visit to Seychelles.
He added that he has been to Praslin and is already the "proud owner of a coco de mer".
Mr Puri noted there are things that are natural creations, such as the coco de mer, but also others, the efforts of man, such as the overwhelming Creole hospitality he has experienced and he feels that bodes well for the cooperation.
Mr Joubert, the architect of the new cooperation, said that already four STA students are already being sponsored for wellness & spa training by the Constance Hotel groups in Mauritius on a yearly basis.
He noted that Shanti Maurice has 25 wellness & spa units, more than any other resort in the Indian Ocean and Africa.
Students will be going there on four-month attachments.
"These are exposures we cannot afford to miss," said Mr Joubert.