Suliman praises Seychelles' cricket
16-December-2011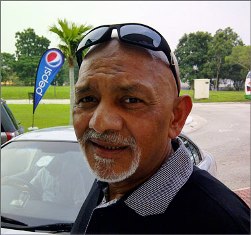 "I'm very happy to see our newest member, Seychelles, do well in such a short space of time," Mr Suliman was quoted as saying in an interview posted on the website of the Asian Cricket Council.
Mr Suliman said he is happy the ICC, with the help of development officers, is taking cricket into places in Africa it has not been for many years.
He added that the ICC work in close collaboration with governments and corporate – big and small – that contribute a lot to their cause and they are very grateful to them for the time, effort and finances they provide.
Seychelles' cricket integrated the gentleman's game's international family in 2010 when Seychelles Cricket Association (SCA) became the 105th member of the ICC.
The local cricket family made the move to become an ICC member early last year and Mr Cassim visited Seychelles to do checks and balances as regards to SCA's application.
This year, the Seychelles cricket selection took part in the International Cricket Council (ICC) World Twenty20 2012 Africa Division 3 qualifiers for the first time.
Newcomers to the world stage, Seychelles left a good impression by reaching the Africa Division 3 final, losing by 8 runs to Rwanda to miss out on the ICC Africa Division 2 tournament in Benoni, South Africa, in April.
In the final at the Achimota field in Accra, Ghana, the Rwandans batted first and put on a total of 125 for 4 in their allotted 20 overs, but Seychelles fell off their target with 117 for 7, although Shiva Nagaraja made 41 off 58 balls and Harikrishnan Kamalan hit 39.
With his 39 runs in 40 balls and 1 wicket in 2 overs for 11 runs, Kamalan took the man of the match award.
Playing in group B, the Seychelles team won their three matches. They batted first against Mali in their opener and did very well to finish with an impressive 161 runs in 20 overs for the loss of 7 wickets for a 60-run win. Krishna Naidoo made the highest contribution with 47 runs, while Kamalan added 45 and Shiva Nagaraja 30. Mali got only 101 runs in 17.4 overs all-out.
Seychelles' captain Kaushal Patel was named man of the match because of his bowling, taking 4 wickets in his spell of 4 overs and conceding only 11 runs.
The team's second victory was against Gambia by 15 runs. Again batting first and scoring 85 runs in 10 overs, Seychelles' Kamalan and Tim Horpinitch finished with 30 runs apiece. In reply, Gambia were 70 all out.
Man of the match was Arvind Bhuva, who took 5 wickets (including a hat-trick) in 3 overs for 8 runs.
Against Morocco in their third and final pool match, Seychelles were asked to bat and they set a very competitive score of 164 for 4. Kamalan got 55 off 75 balls and Sandesh Kunder got a quickfire 46 off 38. Morocco were eventually dismissed for 103.
After scoring 55 runs in 53 balls, and taking 5 wickets in 4 overs for 12 runs, Kamalan was named man of the match.
Other than his two men of the match awards, Kamalan was named man of the series after scoring 150 runs and taking 8 wickets in 4 matches.
Bhuva was the best bowler of the tournament with 10 wickets in 4 games
G. G.