Short-term tourism prospects not brilliant, says SHTA head
17-December-2011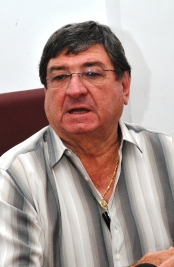 Talking to the press after attending a meeting with Air Seychelles officials Thursday, Mr D'Offay said that following the announcement of the national airline ceasing its European operations, there has been significant cancellations on the French market, and to a lesser degree in the UK.
Also present at the press conference, at the SHTA offices at OJ Building, was the organisation's chief executive, Raymond St Ange, and other executive committee members.
Air Seychelles claims its load factor was 64%, but this dropped overnight to 39% presently, largely because of the uncertainty.
Local travel agents however say that many of the flights by other carriers are full during the festive season, an indication that vacationers are quickly switching to other airlines.
Mr D'Offay said it was obvious to everyone in the trade and even outside that Air Seychelles was experiencing severe difficulties.
He however strongly believes that the decision to stop all European flights by January (see separate story) has been too abrupt and has affected Seychelles' peak tourism season.
"We have all been shocked by the high season pullout," he said, noting that a gradual downscaling of operations could have been held up until after March.
"As it is we've lost the Winter period, when hotels normallly make some money to make up for the leaner months."
Mr D'Offay pointed out that the blow to hotel occupancy will hit hoteliers at a time when Value Added Tax (Vat) will go up from 12 to 15%; when electricity rates are going up 24% and fuel costs have also increased.
"And because we could have a significant number of empty rooms to fill up, we shall have to discount even more," he said.
Mr D'Offay said that while tourism arrivals have increased by 10% over last year, earnings have instead gone down by a corresponding percentage, as a result of discounting already and other factors.
The head of the SHTA does not believe that airlines flying to Seychelles from the Middle East will be able to able to make up for the shortfall in the short term. He said airlines, such as Emirates, all fly full from Europe to Dubai, but it is unsure what percentage of those passengers will extend their vacations to Seychelles.
He said it is the same with the French market. Foreign tour operators selling Seychelles work on a long-term basis, and because of the uncertainty, there are indications that some tourists are diverting to Mauritius.
He believes two Air Austral flights from Paris, to Seychelles and Reunion, scheduled to start in March will help tap the French market, but it is as yet unclear to what degree.
Mr D'Offay said he has met the executive chairman of Air Austral who has informed him that he will be carrying out a market study to see if the number of passengers on the Paris-Seychelles-Reunion route will match that brought by Air Seychelles on its five-weekly flights. Air Seychelles was operating the Paris-Seychelles service on a code-sharing agreement with Air France, which sold a considerable share of the air tickets.
Since most of the Boeing 767s leased by Air Seychelles will not be returned to the International Leasing Finance Corporation (ILFC) in Seattle, USA, until August, there is the possibility that Air Austral could use one aircraft until that date to boost its seat capacity on the Paris route.
Negotiations are on for Blue Panorama, a charter airline, to take over the Italy-Seychelles route.
Most local operators agree that the German market is being adequately tapped by Condor, which maintains its operations.
Speaking on the way forward, Mr D'Offay said it is important that we move quick to reassure our European partners that we are serious.
He stressed that this is capital for the European vacationers envisaging a holiday to Seychelles.
Mr D'Offay also noted that Air Seychelles was spending some $5 million yearly in marketing and suggested that the Seychelles Tourism Board (STB) must be funded adequately to maintain its promotion efforts in Europe and elsewhere.
"Continued exposure is essential," he said.
Still looking to the future, the head of the SHTA said that Air Seychelles could sell its landing rights to other airlines and make some money that way. If all is not lost for Air Seychelles, it can also envisage a merger with a bigger airline, in the same manner that Kenya Airways joined KLM Dutch Airlines.