Aids experts and leaders urge all to fight spread
17-December-2011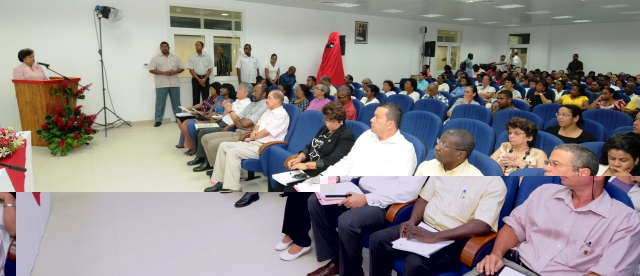 By Thursday, 498 people had tested positive for HIV and Health Minister Erna Athanasius said many others have been infected but they still have not presented themselves to be checked.
An average of 50 new infections occur every year, she said, calling the infection rate a major cause for concern, adding that an increase in other related infections like Hepatitis C are compounding the problem.
Mr Michel said that given the statistics, the National Dialogue on Social Renaissance on which we embarked this year has great relevance to fighting the HIV/Aids challenge.
"The answer to the Aids problem must come from a wide number of people and perspectives. They must address through reflection and dialogue social morals and behaviour that have a direct impact on the HIV/Aids epidemic and which can transform established mindset in both prevention and care," he said.
He said cultural values, social interaction and a new moral psychology will inform the development of health policies that will deliver long-term dividends.
Noting his government has given its commitment to making the resources available for the challenge we face, Mr Michel said the epidemic concerns us all and it is the responsibility of every citizen to contribute in whatever way we can to its abatement.
"Let us all rise to this great challenge for the sake of our children and a better tomorrow. Let us all rise to it and overcome it!" he said.
Ms Athanasius thanked Mr Michel – who chairs Nac – for making time in his busy schedule to attend the meeting, which was also attended by stakeholders' representatives from national organisations and multilateral partners.
She said the delegates and consultants had worked tirelessly to develop valuable strategic documents which they reviewed.
Most countries have not been able to sustain the commitments on HIV/Aids, she said, agreeing with Mr Michel that we all have to work harder to build on what we have achieved in the fight against the pandemic.
She said the strategy documents the delegates worked on are important tools for all sectors of society and not just the Ministry of Health.
HIV/Aids and Hepatitis C infection rates among prisoners was said to be high. The same is the case among people who travel frequently, use drugs or among men who have sex with men, while infection rate among people aged above 50 years has gone up, apparently because they have relations with the young people who were previously the most affected.
Aids control programme manager Rosie Bistoquet however said although these groups are hardest hit, members of the general population who do not take precautions against HIV or Hepatis C, are also getting infected with both the condition and the disease.