Seychelles woos Etihad Airways travel agents
17-December-2011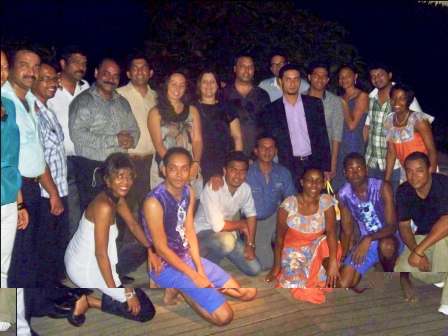 The travel agents are from various part of the Middle East, including Emirates, Qatar, Kuwait and Lebanon.
Until now visitor arrivals from the Middle Eastern market is driven by the UAE. In the 8,929 visitors arriving in Seychelles from the Middle Eastern market in 2010, fifty percent were from the UAE market.
This increase has been triggered by the Qatar Airways and Emirates frequent flights to Seychelles, as well as Etihad Airways' four-weekly flights.
Although Seychelles is one of the top tourism destinations sold by the group of 25 travel agents, they were lacking a firsthand impression of this destination.
Mohamed Ashnique, the senior ticketing and tours consultant of Global Direct Holidays - which is one of the six travel agents based in the UAE - said that for the past four years they have been using tourism sites of the Seychelles to market the destination to its clients.
"This trip has indeed been an enriching experience which will allow us to better promote and sell the islands to our clients," said Mr Ashnique.
He said that "95 percent of the UAE nationals come to the Seychelles for their honeymoon or for a family holiday."
Mr Ashnique added that a large majority of them are fans of Spa resorts destinations where they can relax and be pampered.
"In the UAE these clients spend an equivalent of R9,000 per day in spa centres and Seychelles is a highly recommended Spa centre destination for these kinds of clients," noted Mr Ashnique.
Whereas the representative of the Regency Travel agent said that the Seychelles Green tourism is irresistible to Qataris and for Nasheeth Ahamed, Travel Consultant from the Sama Holidays in UAE said that his clients fall in the up market category with a taste of four or five- star hotels respectively.
Mr Ahamed explained his clients "are not price conscious but are more concerned about value for money".
The Etihad Airways familiarisation group has described the islands as "nothing less than heaven".
For them, "Seychelles is so far one of the safest destinations for their clients'', which according to them "is a plus for the destination".
Before their departure, the group was hosted to a farewell evening at the Ephelia Resort by the Seychelles Tourism Board.
The evening was an opportunity for the Middle Eastern travel agents to meet with the local tour operators which for the past three days guided them to the best spots and hotels on the islands.
An executive marketing representative of the Elite Club Ltd, Brigitte Jeanne-Pothin said that the tailoring made agency's main market is France and it has plans to extend to the Middle Eastern market.