Deaf week celebrated under 'Deaf Renaissance' theme-Deaf people urged to take up sign language
19-December-2011
Anita Gardner, chairperson of the Association for People with Hearing Impairment (Aphi), said this on Saturday at the Au Cap primary school during the official launch of deaf week celebrated under the theme 'Deaf Renaissance'.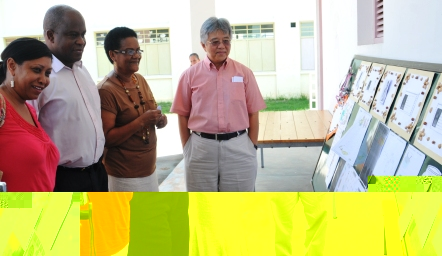 Present for the occasion were Social Development and Culture Minister Bernard Shamlaye, youth and sports principal secretary Denis Rose, social development principal secretary Linda William, the Liaison Unit for Non-governmental Organisations of Seychelles (Lungos) chief executive Steve Lalande, the Patron Ambassador of the Seychelles Association for Women Entrepreneurs (Sawe) Marie-Pierre Lloyd, Children's Homes Foundation chief executive Noella Gontier as well as members and supporters of the deaf community.
Speaking about this year's chosen theme – Deaf Renaissance – Mrs Gardner said "all deaf people are now joining together for a renaissance" where they need to "come out and come forward to claim their place in society".
She also said the deaf community in Seychelles should change its mindsets in line with the theme.
"People often use negative words to describe deaf people out of fear and ignorance," she said, adding it is also the responsibility of deaf people to avoid portraying themselves in this light.
Mrs Gardner encouraged hearing impaired people who are staying at home and depending solely on their families, to go out and find well-paid jobs instead of settling for less.
The deaf community has more support than ever from the Ministry of Education, Employment and Human Resources and the local authorities, making its goals more achievable, she added.

During the ceremony, certificates were presented to students from the deaf community who have made a lot of effort throughout the year, have been role models for other deaf students and took part in this year's Indian Ocean Island Games.
Certificates were also presented to people who have continuously been supporting the hearing impaired community.
On behalf of the Children's Homes Foundation, Mrs Gontier presented gifts to children of the deaf community who were present, after which guests were allowed to view an exhibition entitled Bilingual education for deaf children is not a privilege but a right!

The exhibition was mainly about children of the deaf community taking part in different educational and leisure activities.
Sketches and songs in sign language were also presented by the students during the event.