Minister happy with community projects
19-December-2011
Mr Meriton, who holds the community development, youth and sports portfolios, visited projects in Anse Boileau, Port Glaud and Les Mamelles, where he was updated on the works done throughout the year.
He was accompanied by senior officials from the community development department and the district administrators.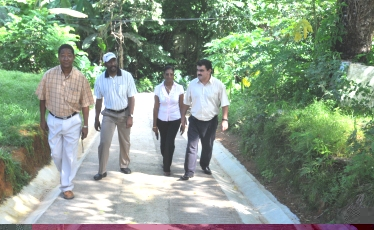 The delegation first called at Anse Boileau and visited the Anse Louis sub-district where they saw feeder roads and also two houses built by the government.
District administrator Valcy Naiken said they have also renovated the district administration and the playground.
"We are asking the district's residents to use the new facilities well," she said.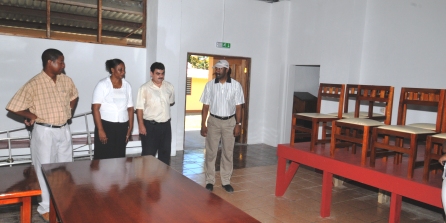 The next stop was at Port Glaud where there has been renovation work on the inside and outside of the community centre. The youth centre has been converted into the new district administration's offices and the playground has also been given a fresh look.
District administrator Maisy Port-Louis said they have converted part of the community centre into a games' room and will later look into the possibility of adding internet facilities to it.
"During the year, we have carried out various projects, such as a play and recreation area for children of the Port Launay Riverside Estate, and we are also continuously building retaining walls and drains," she said.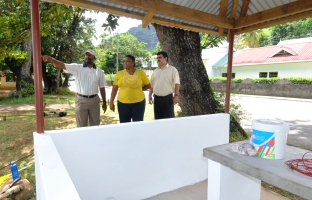 Minister Meriton and his delegation then drove to Les Mamelles where they were met by district administrator Doris Kiwale. She showed them a newly built market where entrepreneurs will sell fruit and vegetables, and the Cosmoledo road which connects the Les Mamelles village to Le Rocher.
They then moved further into the village, where Ms Kiwale showed them an area which will be converted into a playing field.
"We have completed 35 projects in 2011 and we are aiming to connect all our sub-districts together – thanks to three roads that have been completed this year," she said.

Minister Meriton said he is satisfied with the projects in all three districts and the way they have progressed.
"We are renewing our government's engagement to put in place infrastructures in the districts to allow development to take place in the communities. Next year, we will receive R30 million for small community projects, which is a 50% increase compared to last year," he said.
"We put emphasis on quality, where contractors who bid the lowest are not necessarily those who are hired, since we ensure quality projects for money."