Early Christmas lunch spreads merriment among elderly
20-December-2011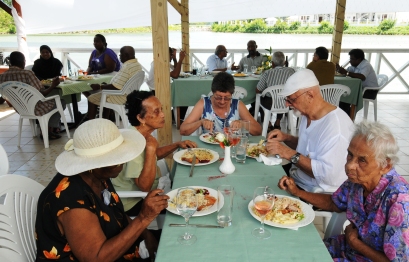 Present at the event was the Minister for Community Development, Youth and Sports Vincent Meriton, chairman of the association, V.J. Patel, members of the association's executive committee, and other guests.
A member of the association's executive committee, Raja Sundaram, said the Indian community of Seychelles "have been around for a very long time" and it is why they have decided "to give back to the Seychellois community what we earn".
"We have always been taught in our culture and at a young age that when we receive, we must also give back," he said, adding the Indian community have already started doing this.
"For two months now we have been providing breakfast items such as cereal, milk, sugar and biscuits to all seven homes on Mahe, covering their breakfast expenses for a month at a time."
In his speech, Mr Meriton thanked the Indian community for all the work they are doing and commended them for taking "this initiative which will help strengthen the partnership with the old people's homes and the Seychellois community in general".
He also hoped other businesses would take example from the gesture and wished everyone present a Merry Christmas, assuring the Indian community of his continuous support as well as that of local NGOs, government and the local business community.