Police force lures staff from other careers
20-December-2011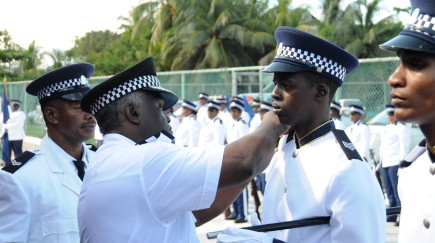 This came to light on Friday when 12 young Seychellois were promoted to the rank of Sergeant after passing the first part of the Young Leaders Programme, as four Cadet Constables became Trainee Constables.
Some of those who have recently joined the force and were promoted are Marie-Josette Fanchette, formerly a nursing officer who has a Bachelor's degree in geriatric and gerontology nursing, which involves the care of, and looking after the social, psychological and biological aspects of the lives of ageing people.
Also in the group was former pharmacist Marie-Antoinette Gedeon, former graphics designer Ralph Agathine, electrician Vincent Marie, Archile Sifflore, who has studied mechanical and electronic engineering, certificate in construction holder David Uzice and Hendrica Larue, who holds a diploma in teaching.
Some of them told Nation they find police work more interesting and more challenging.
Sergeant Fanchette said chances for self-improvement within the force are much better than in her former career and has no regrets in changing her profession.
The other officers promoted to the rank of Sergeant are Cindy Alcindor, Vanessa Anacoura, Annalita Cadeau, Junia Georges and Angelique Legaie.
Those promoted to Cadet Constables are Hillery Julie, Tania Solin, Betty-May Julie and Roddy Meriton.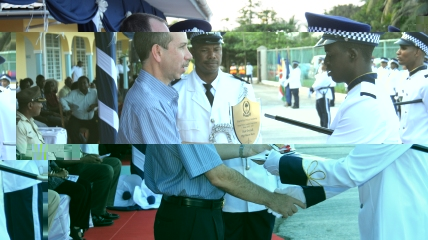 Sergeant Marie got the Best Overall award and Miss Larue was the Best Academic performer.
Sergeant Uzice was awarded for best discipline as Miss Solin emerged as the Best Trainee Constable.
It was Police Commissioner Ernest Quatre who promoted the young leaders in the presence of Home Affairs, Environment, Transport and Energy Minister Joel Morgan under whose portfolio the police department falls.
Also there was the principal secretary for Industry Lucy Athanasius, who oversees the Young Leaders Programme, the graduates' lecturers and family members among other important guests.