Ties highlighted as UAE marks 40th National Day
20-December-2011
This was at a ceremony hosted at the Fisherman's Cove Hotel to mark the 40th National Day anniversary of the UAE.

Among those present were Vice-President Danny Faure, chief justice Fredrick Egonda-Ntende, ministers as well as members of the National Assembly and of the diplomatic corps.
Mr Mallallah noted he became his country's ambassador here last year, while President James Michel opened a Seychelles embassy in the UAE last month.
He said many well-to-do visitors like to holiday in Seychelles, and talked of the growing importance Emirates and Etihad airlines play in our tourism industry as they fly to 79 destinations daily. He talked about the plans to improve Victoria through the Abu Dhabi Planning Council among other joint efforts.
Mr Adam said Sunday's celebrations opened the doors of friendship wider, noting the celebrations are being marked as a 40-day programme.
"The occasion is of great importance as it comes when Seychelles is looking to broaden its horizons," he said.
He named some of the projects the UAE has funded, including the new coast guard base, the Sheikh Khalifa Zayed Al Nahyan Diagnostic Centre and the US $30m from that country earmarked for housing projects here.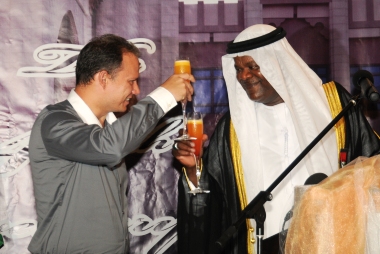 Messrs Adam and Mallallah proposed toasts for the good ties between the people of Seychelles and the UAE and to the good health of President James Michel and UAE President, Sheikh Khalifa Bin Zayed Al Nahyan.