Up Close … with Jerry Lablache, youngest captain of world's biggest shipping company
20-December-2011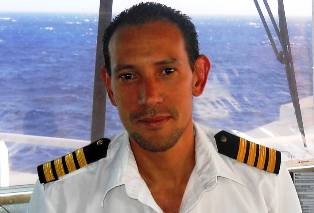 Now 40, Jerry has been captain for four years and the girl he plans to marry was the first naval woman in history to successfully complete the Cape to Rio race in 2000. We shall get to that soon.
Jerry went to sea after leaving the Seychelles Polytechnic in 1990, locally sailing on the Cinq Juin to the outer islands and Madagascar. Others in the family have also answered the call of the sea. There was his brother, Leonard, formerly a commanding officer of the Seychelles Navy and presently one of the skippers of the ferry Cat Cocos.
Over half a century there was his great-grandfather (on his mother's side), Captain Charles Joanis, who had the command of such ships as La Cigale, featured in the song Kaptenn Lolo, Mon Kapitenn by Gérard Barbé.
Though Jerry had the full backing of the Lablache family, especially his mum, Marie-Thérèse of La Misère, he was somewhat discouraged by the complacency he met here. One head of shipping even told him point blank to forget about his dream as he stood no chance of fulfilling it!
In 1992, he decided to try his luck abroad and went to South Africa, where he was taken on as cadet by Unicorn Shipping, which had a fleet of coasters and vessels calling at the Indian Ocean islands, including Seychelles.
The going was tough, but Jerry is still grateful for the help and hospitality extended to him by people like Eddy Savy and his wife, Ghislaine, long settled in Durban.
He slowly worked his way and climbed the ranks to become officer. But the scope being limited, Jerry put out the feelers and after a long wait, was taken on by Maersk. This involved training in Copenhagen where Maersk is based. Recently there were also two months training there in anti-piracy.
To cut a long story short, Jerry joined as officer and rose to have his own command at 37, the youngest man to ever achieve that with a shipping company of the calibre of Maersk based in Copenhagen.
His ship, the Safmarine Komati, can take some 10,000 containers. Maersk is building some bigger container ships in the Pusan shipyard in South Korea. At 150,000 tonnes they will be the biggest merchant ships afloat and it is Jerry's ambition to take command of one of them.
Meanwhile, he can look back and claim he has sailed the five oceans. The highlights of his career as a container ship captain include a rescue last year on his way to the Bahamas of two yachtsmen, whose boat had capsized.
Just a few weeks before his vacation, Jerry had his first encounter with Somali pirates. The Komati had left the Saudi port of Jeddah and was steaming south in the Gulf of Aden when a pirate skiff passed less than 100 metres from the bow. Jerry remembers that it was shortly after 6pm when he was called on deck.
"The pirates, with their turbans, looked a fierce lot. But they could not climb aboard. We move too fast, at 25 knots. Our freeboard is too high and there is also the good manoeuvrability of the vessel. But still, I could not sleep for two days until we had left the danger zone," said Jerry.
The alert was immediately raised and it appeared that the pirate skiff then moved on to target a smaller merchant vessel, but this foiled when a Chinese warship which was in the vicinity promptly intervened.
"I believe the Chinese are the best when dealing with pirates. They are better than some western naval ships that waste a lot of time asking useless questions."
Among other unforgettable moments at sea are the crossings of the China Sea -- with hundreds of small boats with "boat people", mostly from Vietnam -- to watch out for, especially at night.
The Komati usually does not spend more than a day in any port. That is because gantry cranes have considerably speeded up offloading. At most ports, 15 to 20 containers can be moved within an hour. These increases to 30 to 40 an hour in Singapore and up to 50 containers in Rotterdam, Europe's largest port.
In the region, Jerry occasionally stops in Mauritius, where there is a fairly large container port with several gantries. He said while Port Victoria is deep enough and fairly large, rendering it far easier to manoeuvre than Port Louis, the quays have to be significantly extended and gantries brought in, instead of ordinary cranes suited for general cargo, not containers.
Among the most spectacular views to behold from the sea, Jerry said, are Sydney, with its famous grand opera; San Francisco with its Golden Gate bridge; Rio de Janeiro with its "Sugar Loaf Mountain" and "Christ the Redeemer" statue and – not to be missed for the entire world -- Cape Town and its Table Mountain!
Also beautiful to behold is the charming fiancée, Sharen Moodley, to whom he proposed last Friday, after attending the wedding of his sister Maryline to Marcel Delpeche.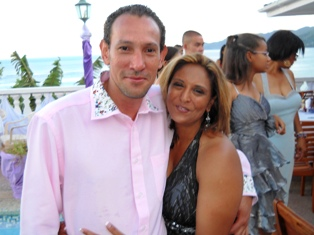 Sharen has also had an adventurous life, having joined the South African navy for basic training after graduating as a physical training inspector.
She also qualified in communications and ventured into public relations, but loved sport and especially sailing.
After a spell in the navy during which she was somewhat "roughed up by the guys", she met someone who, on finding out she had "tremendous willpower", suggested they take part in the Cape to Rio de Janeiro Race. That was in 2000 and Sharen's team finished the race in three weeks – 1st in their class of yachts, but fifth overall. The only other woman did not complete the race after her boat sprang a leak.
Later, a Sir Robert Swan suggested to Sharen an expedition to the South Pole. There were three other South Africans in the expedition -- all men, besides her. The expedition was to raise money for the Nelson Mandela Children's Fund. Among other feats of endurance, it involved swimming in the icy waters off South Georgia for 5 minutes.
"I could feel all my muscles tightening up. I would not advise anyone with a weak heart to attempt that one."
In South Georgia, Sharen also ate reindeer which are often culled to ensure there is enough food for other Antarctic fauna.

South Georgia, 167 miles long, is part of a remote island chain in the south Atlantic, with no native population, and used for scientific surveys.
Later when she met legendary Mandela, and told him about her expedition to Antarctica, "Madiba" enthused: "Very good. That was very good."
Sharen had met "Madiba" in a less jovial mood a few years before -- in naval uniform -- as part of a guard of honour at the opening of parliament in Cape Town.
What next? Jerry intends to continue sailing with Maersk for some more years. But the couple also plan to build a house at Port Glaud, overlooking Thérèse island and the sea, which is to be enjoyed every time they come to Seychelles.
By John Lablache