Seychellois win prizes in Saudi Arabia competition for African countries
21-December-2011
The winners were presented with their rewards in a small ceremony held recently in the auditorium of UniSey's School of Education (ex-NIE) at Mont Fleuri.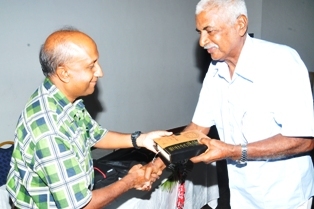 Interestingly, all the winners are members of the same Jean-Baptiste family. The first prize, which is a trip to perform Hajj pilgrimage in Mecca Saudi Arabia, was clinched by Antonio (Ali) Jean-Baptiste. The second and third prizes – both a laptop -- went to Shamsa Jean-Baptiste and Liana Jean-Baptiste respectively.
Unicy Barbara Laure also won a laptop as the fourth prize while Hanifa Jean-Baptiste took home an Electronic Quran as the fifth prize.
The prizes were presented by Brother Ibrahim Afif, the President of the Islamic Society of Seychelles; Justice Arun Karunakaran; Mohammed Afif, Secretary to the Cabinet; Petter Abdul Hadi Payet, President of the Islamic Foundation of Seychelles on Praslin and by the Imam of the Praslin Mosque, Brother Abu Anas Servina.
The competition was launched in June, with the support of the Dawa section of local organisation ICING as part of a global effort to encourage Muslims to increase their knowledge of Islam and to sensitise people in general on the importance of the Hajj pilgrimage. It is the first time since its launch that the competition is open to Muslims living in Seychelles.
This year's competition consisted of 20 multiple choice questions based on the theme "The views of the Four Imams towards the Family and Companions of The Noble prophet Muhammad (Peace and blessing be upon him)."
There was rousing interest among the small Muslim population on both Mahe and Praslin and initially over 50 expressed their interest to take part. But two months later, only 29 managed to successfully complete the questionnaires.

The winners' papers were sent to the C.D.A's office for the African countries, in Pretoria, South Africa for the final ranking of the winners, after initial corrections were carried out by the Dawah Team of ICING.
Most of the prizes awarded to the members of the Jean Baptiste family were collected by Antonio, who already performed the pilgrimage to Mecca last month.
The prize giving ceremony was marked by lectures delivered by the Imam of the Al Nahayan Mosque Victoria, Ibrahim Lebon and Imam Muadh Valentin.
Another highlight of the activity was testimonies made by a few members of the audience who have performed Hajj.