President's Award Programme-Youths receive silver and bronze awards
21-December-2011
The award recipients in souvenir photographs with guests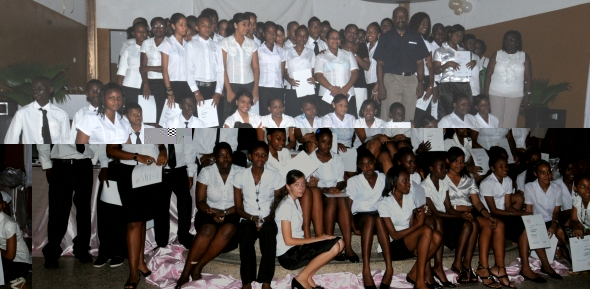 This took place in a short ceremony held recently at the Anse Royale community centre and formed part of the many activities to celebrate this year's Youth Festival.
Attending the ceremony was the Minister for Community Development, Youth and Sports Vincent Meriton, principal secretary for youth and sports Denis Rose, chief executive of the National Youth Council Vicky van der Westhuizen, event coordinator Bernadette Barbier, awardees and parents who had come for support.
Forty awardees received their silver awards while 109 took home bronze.
Award leaders were presented with shields and First Aid certificates.
Mr Meriton advised all youths present to "enjoy this time but always remember to also look towards your future – have fun but always keep good values learned".
He noted that the President's Award Programme is well suited to instil such values in the youths.