Human Resource Development Award
21-December-2011
Today, we profile two of the organisations – Le Meridien Fisherman's Cove and Vijay Construction.
Le Meridien Fisherman's Cove
Le Meridien Fisherman's Cove, a five-star resort with 68 rooms, has a staff of 168. Ninety per cent of the staff are Seychellois, including key management positions in Front Office, Food & Beverage, Kitchen, Housekeeping, Human Resources and Finance. According to the HR Manager, Phyllis Padayachy, most hotel workers are graduates of the Seychelles Tourism Academy (STA) and recruits are given every opportunity to go "the extra mile".
Ms Padayachy says a management position entails long hours, which can occasionally be stressful but managers are expected to make sound judgement and plan training. "It is rewarding but you have to give a lot."
Incentives
Fisherman's Cove has an in-house rewarding system for staff who excel in their areas.
"We encourage them to go the extra mile," says Ms Padayachy. There is instant reward for staff whose performance is exemplary. Other incentives include monthly service charge which allow staff to enhance their earnings. Besides daily briefings, heads of departments are encouraged to hold weekly meetings, where staff voice their thoughts about work, salary, training, recognition and other issues. "Happy staff means happy hotel clients," says Ms Payadachy.
Involvement in community activities
Fisherman's Cove is very much involved with Bel Ombre school and often hosts lunches for pupils at the resort. As a member of the Starwood Hotels & Resort, Le Meridien Fisherman's Cove joined UNICEF's "Education Worldwide" by hosting a buffet dinner, raffle and auction and raised SR90,000 for UNICEF's education programmes in Pakistan and Romania. Fisherman's Cove also sponsored awards for the first three-year hotel management course, run by the STA, at the graduation ceremony.
Vijay Construction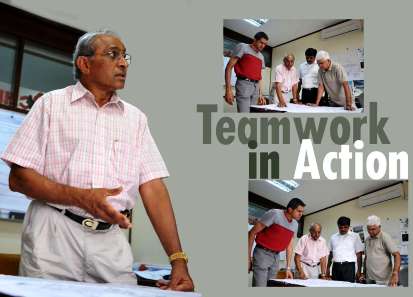 Vijay Construction, the largest construction company in Seychelles, has over 75% foreign workers, mostly from India. They are skilled workers such as masons, carpenters, joiners, tilers, heavy plant operators, where there is a shortage of Seychellois with adequate experience. However, a fair share of Vijay's workforce are Seychellois, including some operators, truck drivers and office staff.
As part of their programme to train local manpower, Vijay Construction recruits 10 students annually from the Seychelles Institute of Technology (SIT). They are offered on-the-job training, leading to certain skills, such as plant operators, welders and fabricators. There is also on site training in new equipment and technology. Some stay with the company, while others move on.
Incentives
Vijay Construction staff also benefit from bonuses based on performance. For long-serving employees, Vijay also helps build their homes or offers gifts of building materials.
Involvement in community activities
Vijay Construction is a key contributor to the Indian Ocean Island Games with a SR5 million donation. It has built a 2.5 metre receptacle for the IOG flame, modelled on the Pitcher plant or "fler Potao", the carnivorous endemic plant of Silhouette. The company is also the main promoter of the Vijay International School on Praslin and also involved in the one on Mahe. It is also one of the main sponsors of the "Sportsman of the Year" Award.