Deaf people get training in massage
22-December-2011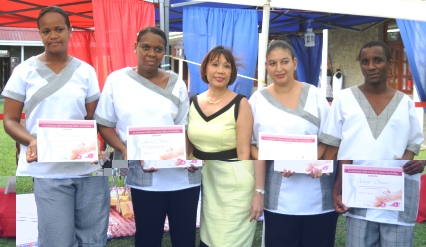 Samia Leon, Muriel Joubert, Heather Arnaud and Kenneth Damoo received their certificates for the course -- entitled the Silent Touch project -- in a short ceremony on Monday at Camion Hall.
The ceremony was attended by the chief executive of the Small Enterprise Promotion Agency (Senpa) Sylvianne Valmont, who also officially launched the Silent Touch project; Aphi's chairperson Anita Gardner, who initiated the training; owner of La Jeunesse beauty salon, Victoria health and beauty salon and conductor of the course Beryl Scharpf; representatives from one of the course sponsors Barclays Bank of Seychelles and other members from Aphi.
Aphi says the aim of the project is to train deaf people in back massage so that they may later run their own mobile massage business and to bring to light this year's objective of the association to empower deaf people of Seychelles in line with their theme Deaf Renaissance.
In her opening speech, Mrs Gardner said "Silent Touch" is unique and through an interpreter, students were able to apply techniques learnt.
She also explained that the association's long-term plan is to get other deaf people who are interested involved with the project.
"We will soon be going to Praslin and La Digue for a demo to see how many people might be interested with the new initiative," she said.
Mrs Scharpf said she was happy with the effort and dedication the students put into the course.
"They were able to accept critical assessment and they are now more confident," she said, adding the community "should see this as a good training investment that will benefit both students and the general community".
At the end of the ceremony students demonstrated how the mobile massage is to operate.
Aside from Barclays Bank of Seychelles, the American Self-Help Grant and Air Seychelles also helped fund the project.
Our photo on front page shows some of the students demonstrating the skills they had acquired in the training.