Seychelles Hospital gets gift of medical supplies
22-December-2011
Friends of Seychelles patron Lise Church officially handed over the supplies to the acting director of nursing Marie-Antoinette Hoareau, in a short ceremony held recently at the Seychelles Hospital.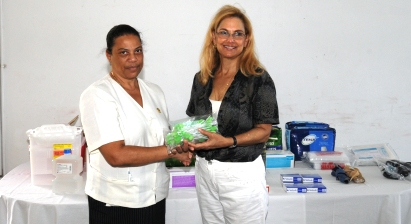 This was in the presence of a number of Ministry of Health officials.
The donation was as sizeable as it was diverse, and comprised supplies like theatre gowns, diapers, special hospital shoes, mouth swabs, surgical gloves, catheters and many more.
Mrs Church said the Friends of Seychelles makes such a donation every year and a USA-based member of the Friends of Seychelles association – who is also a nurse there – makes a list of some of the needs of the Seychelles Hospital through her contact here. Then, the organisation tries its best to get most of the equipment needed and get them sent to Seychelles.
She added it was encouraging that they only had to pay for shipping, removal from the port in Seychelles and transportation of the supplies to their final destination.
Mrs Hoareau thanked the Friends of Seychelles through Mrs Church and promised that the supplies will be put to good use.
Some of the equipment received are new to the hospital, such as mouth swabs, which are said to be very useful since it will give the staff more professional tools with which to do their work.