Volleyball-Seychelles needs to derive benefits from CAVB
22-December-2011
Seychelles Volleyball Federation (SVF) chairman Jude Florentine said this after attending the recent Confederation of African Volleyball (CAVB) congress held at the Corinthia Hotel in the Sudanese capital of Khartoum and graced by the Fédération internationale de volley-ball (FIVB) president WJizhong Wei and several FIVB vice-presidents.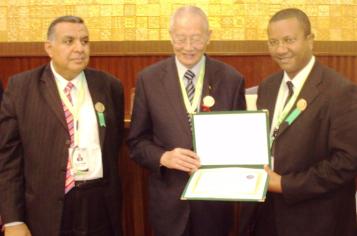 Mr Florentine, who was presented with Seychelles' certificate of participation at the CAVB congress by Mr Wei, said Seychelles stands to gain from FIVB's new development fund policy.
"The FIVB is committed to return part of the profits it has made over the years to national federations through the confederations.
"The SVF expects to receive funding from the FIVB to put in place its volleyball in schools project. We will also be looking for training opportunities," said Mr Florentine.
At the congress, FIVB vice-president Amr Elwani was re-elected CAVB president for another four-year term after receiving 41 votes out of a total 48 attending national federations present at the general assembly This is Dr Elwani's third term in office
South African Tubby Reddy, who also ran for election, got six votes with one vote invalid.
The six vice-presidents elected to work alongside Dr Elwani on the CAVB executive board are Mory Kieta (Guinea Conakry, 45 votes), Habu Gumel (Nigeria, 43 votes), Munir Ben Slimane (Tunisia, 43 votes), Idriss Dokony (Tchad, 42 votes), Waithaka Kioni (Kenya, 42 votes) and Camilo Antao (Mozambique, 39 votes).
The two gender minority positions on the board were filled by Touria Aarab (Morocco, 43 votes) and Aminata Fofana (40 votes).
The other CAVB representatives to the FIVB board were also elected and they are Habu Gumel (Nigeria, 43 votes), Louis Timba (Cameroon, 44 votes) and Issiaka Sawadougou (Burkina Faso, 37 votes). They join Dr Elwani who as confederation president automatically becomes one of FIVB's executive vice-presidents.
The presidents of the seven African zones were also elected during the zonal meetings following the election of the CAVB board members.
In zone 1 Moustafa Lamouchi from Algeria was elected president, while Mamadou Ndoye from Senegal became the president of zone 2. David Kabre from Burkina Faso was elected as zone 3 president, Frederic Ndounda from Gabon in zone 4, Mohamed Abdel Majeed from Sudan in zone 5, William Lebouhang from Lesotho in zone 6 and Kayseeven Tereroovengaden from Mauritius in zone 7.
Zone 7 comprises Seychelles, Mauritius, Madagascar and the Comoros.
The seven zone presidents and the other elected members are all FIVB board members.
Besides the elections, the congress also listened to and approved reports for the following commissions – financial, technical, press, referee, medical, legal, beach volleyball sports organising. Also all outgoing zone presidents had to submit their activity and proposal reports to the congress for approval.