Cycling-Mathieu best cyclist
24-December-2011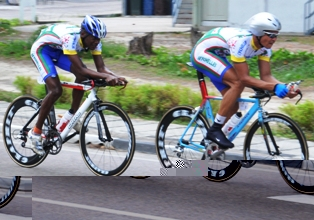 Mathieu led the Seychelles selection – including Rose – to winning the team event bronze medal during the 8th Indian Ocean Island Games in August on home soil, after personally winning bronze in the individual time trial and road race.
St Francis and national team coach Andrew Boniface is the year's best trainer, while DTN Lucas George is the best official.
DTN Georges' greatest achievement of the year was at the 10th Africa All-Africa Games in Maputo, Mozambique in September where he entered the Games' history book by becoming the first ever Seychellois and African official to be appointed as the chief commissar by the Union Cycliste International e(UCI). Only European officials had held the post at the nine previous Games.
He was also elected as the chairman of the Cac technical committee where he led meetings of commissars and helped work on recommendations submitted during the Games.
Hendrick Savy is the association's best official for 2011.
R. D.