Jefferson Dogley wins R10,000 in Cool Sun promotion
29-December-2011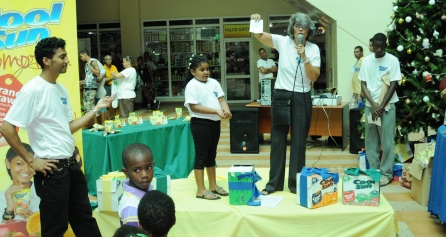 The three-week promotion was done to promote the company's Cool Sun fruit juices, which are of mixed fruit, mango, orange and apple strawberry flavours.
The five prizes for the promotion ranged from R3,000 to R10,000 in cash and also two consolation prizes of gift vouchers worth R1,000 each.
Those who took part in the promotion had to only be photographed drinking a sachet of the Cool Sun juice and over 85 people were photographed on Mahe, Praslin and La Digue.
The draw, held recently at the Orion Mall, was led by Dan Imports' spokesperson Sylvianne Stravens, in the presence of an exciting crowd of people.
The first prize went to Jefferson Dogley who earned himself a 'cool' R10,000 for drinking Cool Sun, while Miguel Lespoir clinched the second prize of R5,000. The third prize of R3,000 went to Nathalie Jacques.
The two other consolation prizes went to Emilie Pillay and Julio Santivi.
Six-year-old Santivi was the only winner present to collect his prize from Ms Stravens and like Emilie Pillay, he can shop at the company's outlet in Victoria for any of its products to the value of R1,000.
The company imports, among other things, soft drinks, meat, ice-cream and snacks.

Free juices and also the Chitato chips the company imports were handed out to members of the public present and also to people who had taken part in the promotion.
Ms Stravens said they will certainly look into the possibility of holding such promotions again next year and that the pictures of those who took part will be published in local newspapers soon.