Seychelles to receive musical instruments worth $47,000
29-December-2011
This follows the signing of a donation agreement by Seychelles' Ambassador to China Philippe Le Gall and the representatives of two major companies from the Henan province in China – Jianye Group and Zhengzhou Synear Food Co.Ltd.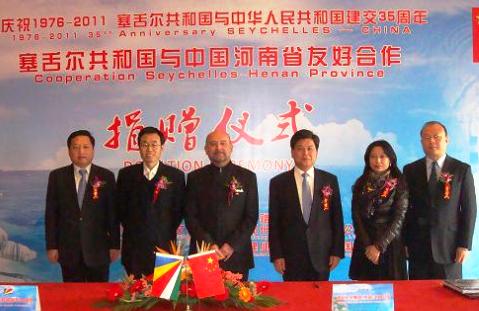 The agreement was signed recently at the prestigious Pangu 7 Star Hotel in China and the instruments will cost RMB 300.000 (US $47,000).
The decision to provide this help was taken during the visit of the vice-governor of the Henan province, Shi Jichun, in September, and followed discussions between the Minister for Social Development and Culture Bernard Shamlaye, and Henan's vice-governor, Kong, during the minister's visit to the Henan province last year.
The donation was finalised on December 13 between the Seychelles embassy, the Foreign Affairs Office of the Henan province and the two donating Henan-based companies.
According to Ambassador Le Gall, it represents a successful and very promising example of triangular cooperation associating two government agencies and the private sector.
This ceremony formed part of the embassy's activities to celebrate 35 years of diplomatic relations between Seychelles and China and it was attended by Wang Shiting, the counselor of the Africa department of China's Ministry of Foreign Affairs and Guo Junfeng, deputy director general of the foreign and overseas Chinese Affairs office of the People's Government of the Henan province, as well as many Chinese friends of Seychelles.