VP Faure meets, thanks retiring public servants
29-December-2011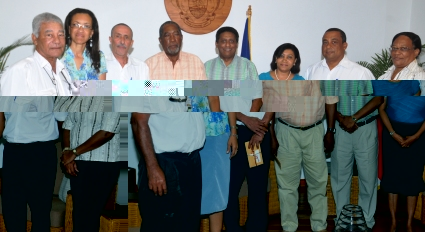 As the last batch of retirees for this year, a group of nine retiring teachers from Mahe and Praslin – of whom eight were present – were greeted by VP Faure, the principal secretary for education Merida Delcy, principal secretary in the VP's office Jeanne Siméon, and the principal secretary for administration Jessy Esparon.
Mr Faure said the occasion was an auspicious one and welcomed them on behalf of President Michel.
"This is a touching moment for all of us and from the bottom of our hearts we profoundly thank you for all your years of service," he said.

The retiring teachers are Marie-Madeleine Rideau, Jeanne Etienne, Marie-Ange Hoareau, Gilette Lespoir, Florette Marie, Wilna Rosine, Aziz Sylla, Erika Wirtz and Rose de May Ernesta.
Each teacher then spoke briefly about their career and some of their best moments in their profession. Some recounted how their students came to meet them at the school gates every morning and carried their bags.
Others spoke fondly of how much they enjoyed meeting past students and catching up with them.
The teachers thanked the department of education for its support over the years and also had some words of encouragement for the youths – especially young teachers – encouraging them to persevere in the hope that they might last as long as they did in the profession or even stay longer.
Mrs Lespoir holds the record for the longest-serving teacher, notching up 46 years of service.
A second group of three retirees was also present at State House on Tuesday. It included Wilby Ernesta and Rocksen Cesar from the Seychelles Ports Authority who are also retiring as senior tug master and head coxwain respectively, and Francis Ally from the Family Tribunal.
VP Faure and his delegation, which included Seychelles Ports Authority chief executive André Ciseau and the principal secretary for social development Linda William-Melanie, welcomed this second group.
Mr Ally worked as senior enforcement officer with the Family Tribunal and his retirement will take effect on January next year.
Each of the three spoke warmly of their love for their jobs, which they said had helped them make it through the years. They also had words of encouragement and told those they are leaving behind in the world of work not to give up when the going gets tough.
VP Faure also presented a token of appreciation to each of the retirees.