EU pays €5.6m for tuna fishing in Seychelles in 2011
29-December-2011
It is the first of three such payments under the existing three-year fisheries accord.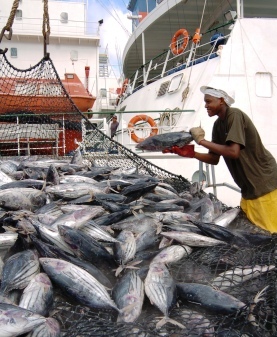 The allocation is made up of the access right – 3,380,000 euros – which allows the EU's fleet in the Indian Ocean to fish in Seychelles waters.
Another sum of 2,220,000 euros is allocated to support and implement Seychelles' sectoral fisheries and maritime policy.
The Fishery Partnership Agreement prevents EU vessels to operate in areas reserved for Seychellois artisanal fishermen.
It stipulates that the total EU catches in Seychelles' waters, by 21 purse seiners, shall not exceed 52,000 tonnes.
If there is additional catch, a further contribution shall be paid by the EU.
The EU fleet plays a crucial role in supplying all the Western Indian Ocean tuna processing factories, whose exports to Europe are exempt of tax.
The Indian Ocean Tuna (IOT) cannery is one of the world's largest and receives all its tuna from EU vessels.
An additional benefit is the transhipment of tuna in Port Victoria by the purse seiners, which also provides employment for stevedores.